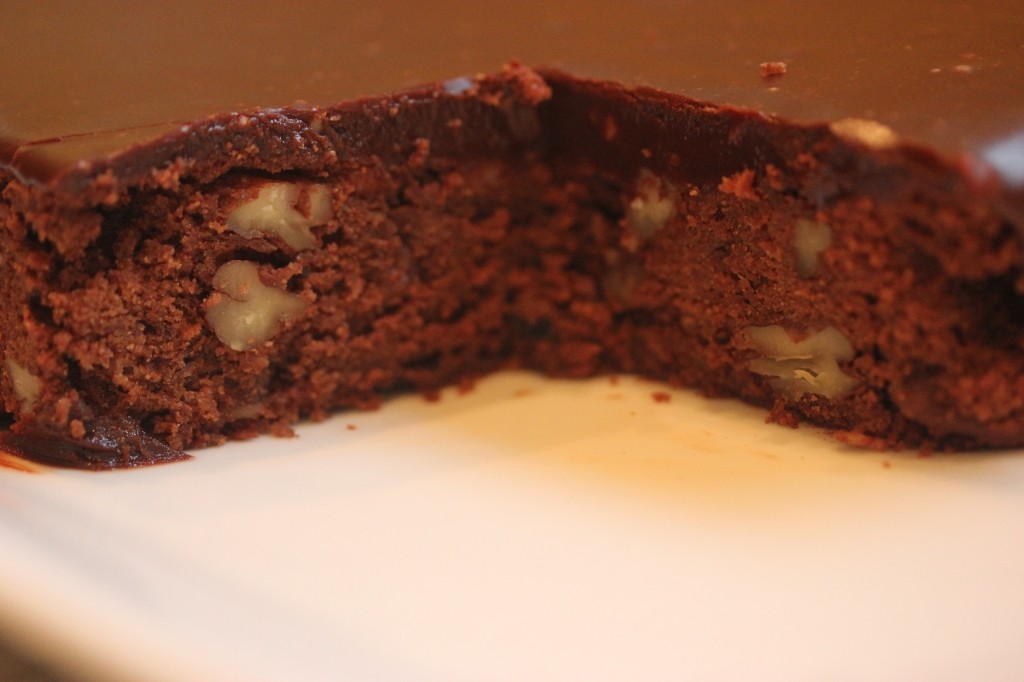 Ah, yes, the brownie is good. It's really good. And I swear I will blog it tomorrow. But today, raise your eyes. Look at that chocolate glaze. That perfect chocolate glaze that made these brownies "the best ever." Suzen said that. I was humbled.
The brownie is from Maida Heatter, with some modifications. This glaze starts with her, too, but I've totally modified it. Maida wants only cream, instant coffee powder and LOTS of chocolate. Her glaze was for a cake, mine for a single layer of brownies, so I use less chocolate, add some butter and some powdered sugar.
The result? This is an awesome glaze, for many reasons. It's easy to make. It spread wonderfully. And it dries into a work of art.
Often when you see a recipe for powdered sugar, it calls for sifting or sieving. That's a good idea here. You might see in my picture just a speck of two of powdered sugar that was not fully dissolved. By the time you add the powdered sugar, this mixture is becoming very viscous. You won't have the opportunity to get rid of every speck of unsifted powdered sugar. Just consider it decoration.
Brian's Perfect Chocolate Glaze
Yield: easily enough to top one 8" X 10" sheet.
Ingredients:
½ cups heavy cream
1 tablespoon instant coffee powder
3 ounces unsweetened chocolate, in small pieces
2 tablespoons butter
1 ½ cups powdered sugar
Preparation:
Put the cream in a medium saucepan on medium heat. Bring to a simmer, with bubbles starting to form on the side of the saucepan. Add the instant coffee powder and the chocolate and whisk for one minute — with the mixture still on medium heat.
Remove from the heat and, if necessary, continue to whisk until the chocolate is fully melted. Add the butter and whisk until smooth. Add the sugar, ½ cup at a time, whisking after each addition. You'll need two additions and perhaps much of the third.
If the glaze is still "hot" then wait a few moments. When it is warm, and still quite fluid, pour the glaze over your brownies, or whatever, and allow it to gracefully flow.
Complete the task by taking a rubber spatula and cleaning any remaining glaze out of the bowl. You can share with your spouse or your children. Or, if you are alone, you can just eat it all yourself and smile at your success.
Source: Brian O'Rourke inspired by Maida Heatter