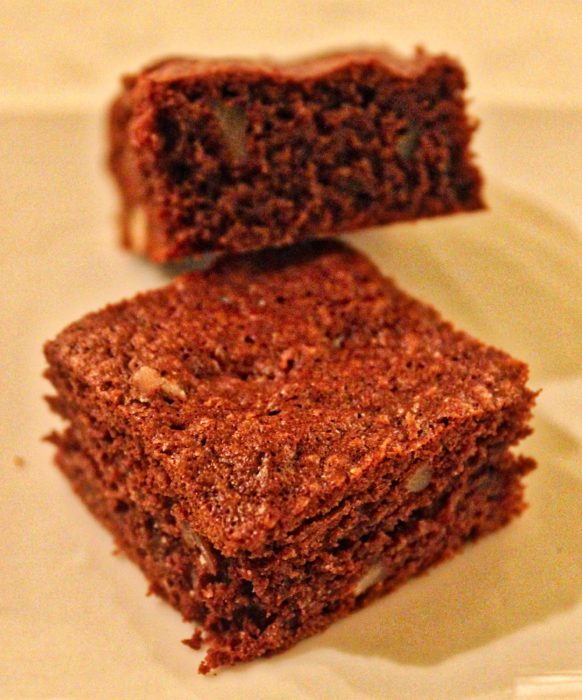 Brownies, like fudge, are the great American contribution to the world of chocolate. So what in the world is a brownie recipe doing in French Patisserie from Ecole Ferrandi in Paris?
Well, first this new cookbook, coming in at a meager 9 pounds, is the best dessert cookbook of the century. You can see my review here.
And, the French have made several "adjustments" to the classic recipe as presented by, say, Maida Heatter. Actually, improvements. If, if you like your brownie to be cakelike, then this is brownie heaven. Soft to the bite, perfectly flavored, and sure to make you think you are sitting on the sidewalk outside a Paris café. Ah, you'll have to close your eyes for that part.
Compared to the American recipe, there is less sugar and flour, equal parts sugar and flour instead of 2:1, and double the chocolate. No salt, no vanilla. It's a very different recipe but I can recommend it heartily. And, if you make a second batch, it really will taste just like the first one. Trust me, I know.
French Patisserie is that one book you want to take to a desert island, if that is your sentence. It's magnificent. So are these brownies.
---
Brownies
Yield: serves 4
Ingredients:
7 tablespoons butter, plus more for greasing the pan
4 ¼ ounces chocolate
2 eggs, lightly beaten
⅓ cup sugar
⅓ cup flour, plus more for greasing the pan
Generous ¼ cup walnut halves
Preparation:
Preheat the oven to 325° F.
Butter a 7" square pan and dust it with flour.
Melt the chocolate and the butter in a bowl over a pan of hot water.
In a stand mixer with the whisk attachment, beat the eggs and sugar together for at least 7 minutes, until pale and thick.
When the temperature of the melted chocolate reaches 113° F [or less], whisk into the egg mixture, one third at a time using the mixer at medium speed. Go carefully to ensure that the egg mixture retains its volume and does not deflate.
Using a spatula, gradually and gently fold in the flour and walnuts.
Gently spread the batter into the prepared pan and bake for 25-30 minutes.
---
Source: French Patisserie by Ecole Ferrandi [Flammerion, 2017]
Photo Information: Canon T2i, EFS 60mm Macro Lens, F/4.5 for 1/25th second at ISO‑3200