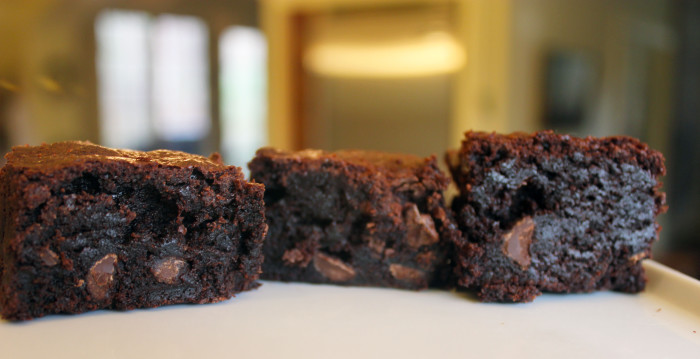 "Where is the 8 by 8 pan?" Suzen asked me.
"There, right there, in that stack in your hand," I answered. She was holding a big collection of baking pans. She had a frustrated look on her face.
"Ya think!" she responded with angst.
God, sometimes I have to prove everything. I got the ruler. Let's see. 7X7, 7X7, 9X9, 10X10.
"Where the heck is it?" I admitted. "We must have it in the city." We were upstate. We bake there, bring the results home to Tribeca, and apparently leave the 8X8 pans 120 miles away from out weekend house.
"I could go buy a pan," I offered.
"Twenty miles?" Suzen noted. We live waaaay out in the country.
"Or," I began.
"We could just double the recipe and use a 13 by 8," Suzen beamed. "I'll be adjust the baking time."
And that is why, for the first time in our married life, we used six eggs for one large batch of cookies.
From Classic Cookies with Modern Twists, these brownies will surprise and delight you. They are rich, moist to the point of almost verging on soggy, and have enough chocolate to let you stay up until 2 or 3 in the morning.
It's a complete dessert, one you might want to tame a tad with some whipped cream or very vanilla ice cream.
Wasn't there a line in a movie once about, "Gooey is good." Oh, no that was greed. I do think greed is bad. But gooey? Oh, good. Very good.
Oh, we did make one litle change to the recipe. We tossed in a 1 ½ cups of chcolate chips. It is, you understand, quite impossible to have too much chocolate.
---
Brownies [Made with Cocoa Powder]

Yield: one 8X8 pan, about 16 caffeine bombs

Ingredients:

Baking spray or melted butter, for greasing
1 ¼ cup granulated sugar
½ cup lightly packed light brown sugar
¾ cup unsweetened Dutch-processed cocoa powder
¾ cup (I ½ sticks) unsalted butter, melted
3 eggs
2 teaspoons vanilla extract
¾ cup all-purpose flour
½ teaspoon fine sea salt
Preparation:

Preheat the oven to 325 degrees F. Line an 8X8 inch baking pan with foil, pressing firmly the foil into the corners and leaving 2 inches of overhang on the sides. Lightly grease the foil and set aside.
In a large bowl, whisk the sugars with the cocoa powder and slowly add the butter in a steady stream, whisking constantly. (It's okay if the mixture appears separated.) Add the eggs, one at a time, whisking vigorously to blend after each addition. Add the vanilla, and using a rubber spatula, fold in the flour and salt until just combined.
Scrape the batter into the prepared pan and use an offset spatula to smooth the top. Bake for 30 to 40 minutes, rotating the pan every 10 minutes, or until the top begins to crack and a thin knife inserted in the center comes out mostly clean, with a moist crumbs. Cool completely on a wire rack before using the foil overhang to remove the brownies from the pan.
---
Source: Classic Cookies with Modern Twists by Ellen Jackson [Sasquatch Books, 2015]

Photo Information: Canon T2i, EFS 60mm Macro Lens, F/4 for1/530th second at ISO‑320