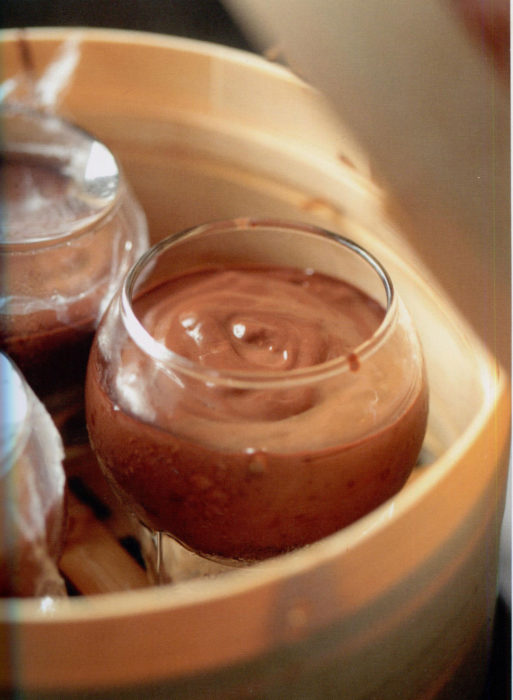 Yesterday I posted a review of Chocolate Master Class. Here's the first recipe I'm going to try: Chocolate Cream with Jelled Coffee. What is Chocolate Cream? Melted chocolate mixed with milk and cooked with egg over simmering water. Jelled Coffee? It's espresso blended with one of the gelatin sheets you've seen in a store but never purchased or used.
Until now. Smooth, deeply flavored, and packed with caffeine, this is a dessert that will bring you applause. And, it's actually easy to do. Be patient. Read the directions here first and be confident. Creaminess awaits you.
---
Chocolate Cream with Jelled Coffee
Yield: serves 8
Ingredients:
For the chocolate cream:
Either 5 ounces (140 g) bittersweet chocolate, 60 percent cocoa
Or 4 ¼ ounces (120 g) bittersweet chocolate, 70 percent cocoa
Scant ½ cup (too ml) milk
1 egg
1 egg yolk
For the jelled coffee:
1 sheet (2 g) gelatin
Scant ½ cup (100 ml) strong espresso coffee
Equipment:
1 flexible spatula
1 whisk or handheld electric beater
8 shot glasses or small bowls
Plastic wrap
1 steamer basket or couscous pot with colander
Preparation:
Prepare the chocolate creams:
Chop the chocolate and melt it slowly in a bain‑marie or in the microwave oven (stirring from time to time). Heat the milk in a saucepan, removing it from the heat just before it comes to a boil. Gradually pour one third of the hot milk over the melted chocolate. Using a flexible spatula, mix it in energetically, drawing small circles to create an elastic, shiny "kernel." Incorporate the second third of the liquid, using the same procedure. Repeat with the last third until the mixture is quite smooth and creamy. Beat the egg and extra yolk together and stir into the chocolate mixture.
Pour the cream into the small glasses or bowls and cover them with plastic wrap. Place them in a steamer basket or colander. Put them over gently simmering water, cover the pot with the lid, and cook for 10 to 12 minutes. This is the time required for a glass with a diameter of 2 in. (5 cm) containing just over 1 in. (3 cm) of cream. The cream is done when the surface offers a little resistance to 1 touch; the interior should not be liquid.
Immediately chill the creams by placing them in a bowl of ice water and then leave to set in the refrigerator.
Prepare the jelled coffee:
Soften the gelatin in a bowl of cold water. Prepare a scant ¼ cup (100 ml) of very strong coffee, preferably espresso. Wring the water out of the gelatin and incorporate it into the hot coffee until it is dissolved. Pour it into a small dish so that it is less than ½ inch (1 cm) deep. Chill for at least 2 hours until quite set. Cut into small dice.
Serve the chocolate creams well chilled and accompany with the small cubes of jelled coffee.
---
Source: Chocolate Master Class, Federic Bau editor [Flammarion, 2014]