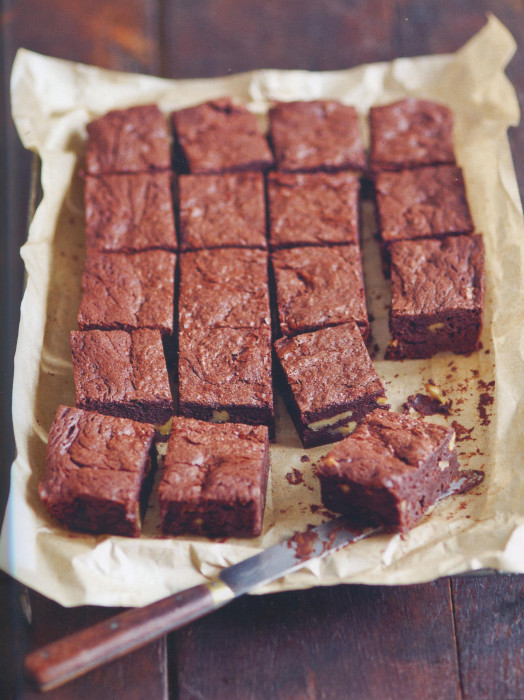 Yesterday I posted a very positive review of Brownies, Blondies and Other Traybakes from Ryland Peters & Small. It's the best brownie book in years. And, yes, you should try all the other yummy treats here. This is a British book, so there are some surprises here for you: jam-filled and fig-topped trays of cookies that are lovely to behold. The photography in this book is as good as the cookies themselves.
Here is the first recipe in the book: Chocolate Fudge Brownies. How is the fudgy flavor achieved? Compared to a standard brownie recipe [Maida Heatter's All American Brownie], this one has 5 times more chocolate and 2 times more butter. It's just decadent. But it's a brownie so decadence is expected. Demanded. Desired.
After you bake these, resist the temptation to cut into the warm brownie and begin eating. It's way, way too fudgy. You have to wait, refrigerate, and the slice. It's a test of character. You'll be fine. You can always warm them up — in the oven, not the microwave.
---
Chocolate Fudge Brownies

Yield: about 20 good sized brownies

Tools and Ingredients:

3 eggs
1 cup plus 2 tablespoons superfine sugar
10 ½ ounces dark/bittersweet chocolate, broken into pieces
2 sticks butter
2 teaspoons vanilla extract
1 tablespoon instant coffee granules
2 tablespoons water, boiling
2 cups self-raising/self-rising flour
⅔ cup chopped walnuts
Preparation:

Preheat the oven to 350°F.
Put the eggs and sugar in a large bowl. With a balloon whisk or a hand-held electric whisk, beat together until smooth, very thick and pale, and no sugar is left in the base of the bowl.
Melt the chocolate and butter in a heatproof bowl set over a pan of barely simmering water. Do not let the base of the bowl touch the water. Stir frequently until smooth and well mixed. Put the vanilla extract and coffee granules in a cup, add the boiling water and stir until dissolved and smooth. Add the melted chocolate and butter to the egg and sugar mixture, followed by the coffee infusion and stir to mix. Fold in the flour, then add the walnuts and gently stir through.
Spoon the mixture into the prepared baking pan and bake in the preheated oven for 35-40 minutes until just firm to the touch. Remove the brownies from the oven and leave to cool in the pan, then turn out onto a wire rack. They are best eaten warm or at room temperature but are easier to slice when chilled.
The brownies will keep in an airtight container at room temperature for 7-10 days. They are also good for home freezing.
---
Source: Brownies, Blondies and Other Traybakes [Ryland Peters & Small, 2016]