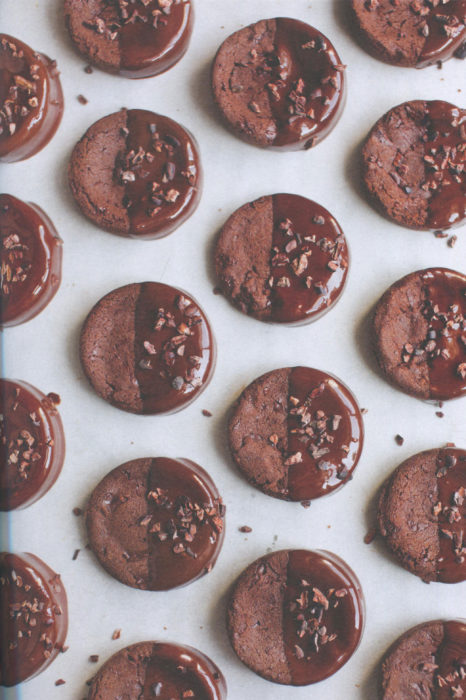 This Sunday marks the start of an important week: Thanksgiving week. For many people, it's not just Thursday that we take off or prepare food. The entire week seems to be spent traveling, shopping, and cooking. Oh, and eating, too.
At some point during this week, some point, you will want a little pick me up snack.
Edd Kimber is a British baking fanatic who won the first season of The Great British Bake Off. He is English to be sure, but he has traveled France endlessly and his book, Patisserie Made Simple, is a paean to French patisseries. Edd wants you cooking as well as eating. Patisserie Made Simple is intended to have you in the kitchen and making French-style wonders for yourself.
You already coffee in your kitchen. Just pair it with these cookies.
Ah, the cooking coating calls for tempered chocolate. If you know what that means, fine. If you want to learn, fine. If you just want to melt chocolate and dip the cookie, fine. In your mouth, it really is all the same. Do not fret. But do bake.
Chocolate Sables
Yield: makes 40
Ingredients:
For the sable dough:
2 cups all-purpose flour
6 heaping tablespoons cocoa powder
¾ teaspoon baking soda
½ teaspoon flaked sea salt
7 ounces (1% sticks/200g) unsalted butter at room temperature, diced
¼ cup superfine sugar
1 cup light brown sugar
½ teaspoon vanilla extract 6
6 ¼ ounces dark chocolate (60 to 70 percent cocoa solids), finely chopped
For the sable coating:
9 ounces dark chocolate (60 to 70 percent cocoa solids), tempered
Cacao nibs, to sprinkle (optional)
Preparation:
Sift the flour, cocoa powder, and baking soda into a medium bowl and add the sea salt, then stir together. Let sit.
Put the butter in large mixing bowl and, using an electric mixer, beat until smooth and light. Add the sugars and vanilla extract, and beat together for 2 minutes until smooth. Add the dry ingredients to the bowl and mix together until you have a mixture that looks sandy (which is what sable means in English), add the chocolate and mix to combine. The final dough should look almost like soil; it should not have formed into one large ball of dough. This is the key to getting the correct texture; mixed for too long the cookies will be tough.
Transfer the mixture to a countertop and gently press together to form a uniform dough. Divide in half and roll into two logs, 1 ½ inch thick. Wrap in plastic wrap and put them in the refrigerator to chill for 3 hours or until firm. (At this point you can freeze the dough for baking at a later date, or do as I do and bake one half of the dough and freeze the second.)
Preheat the oven to 350°F and line three baking sheets with parchment paper. Remove the dough from the refrigerator, and using a thin, sharp knife, cut into rounds about ⅜-inch thick. Put the cookies onto the baking sheets, leaving ¾ inch between each one. Bake for 10 to 12 minutes until set around the outside but still soft in the center. Leave the cookies to cool on the sheets for 10 minutes, then transfer to a wire rack to cool completely.
Line a baking sheet with parchment paper. Once the cookies are cool, dip each one halfway into the tempered chocolate, allowing the excess to drip off. Put onto the prepared sheet and sprinkle with a few cacao nibs before allowing the chocolate to set fully at room temperature.
The cookies will keep for up to one week stored in an airtight container.
Source: Patisserie Made Simple by Edd Kimber [Kyle, 2015]