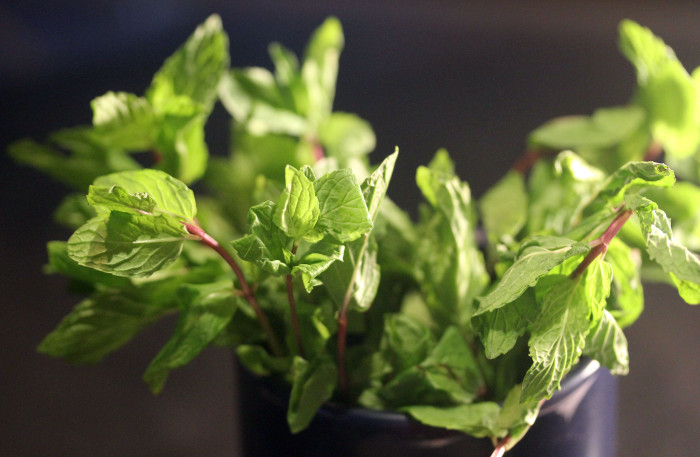 It's now, at long last, June and our herbs have survived a winter of deep snows and deeper cold. Our mint beckons. How to use it?
Frosting, of course. Here the mint flavor comes, not primarily from our garden, but from liquor and extract. But your spring mint leaves can still be used to adorn the top of the cake when you are frosted, smoothed, and contemplating a knife to get the first slice.
If you have a cake, chocolate or otherwise, demanding an exceptional frosting, then consider this: a deeply rich buttercream flavored with crème de menthe and peppermint extract.
This recipe, from the team at Baked, is classically tuned and scaled. Yes, the second ingredient is flour. Flour for frosting? Fear not, for it all works to generate an impeccable frosting. As the frosting comes together, the consistency will, as always, depend on the temperature and water levels in the butter that is the foundation ingredient. If your frosting texture is spot on, then you are fine to frost away. If initially the frosting is too soft or too firm, then the instructions below will guide you elegantly.
Crème de Menthe Buttercream
Yield: enough for a standard 2-layer cake
Ingredients:
 2 ¼ cups sugar
½ cup all-purpose flour
2 ¼ cups milk
½ cup heavy cream
4 ½ sticks unsalted butter, soft but cool, cut into small pieces
2 tablespoons crème de menthe
2  ¼ teaspoons peppermint extract
Preparation:
In a medium heavy-bottomed saucepan, whisk the sugar and flour together. Add the milk and cram and cook over medium heat, whisking occasionally, until the mixture comes to a boil and had thickened, about 20 minutes.
Transfer the mixture to the bowl of an electric mixer fitted with the paddle attachment. Beat on high speed until cool. Reduce the speed to low and add the butter; mix until thoroughly incorporated. Increase the speed to medium-high and beat until the frosting is light and fluffy.
Add the crème de menthe and peppermint extract and mix until combined. If the frosting is too soft, put it in the refrigerator to chill slightly, then mix again until it is the proper consistency. If the frosting is too firm, set the bowl over a pot of simmering water, then mix again.
Source: Baked [New Frontiers in Baking] by Matt Lewis and Renato Poliafito