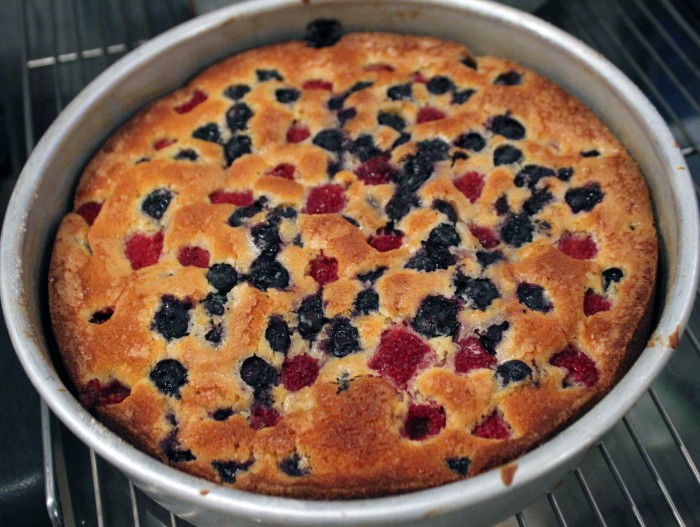 Before summer ends — it's 57° at 1:40PM on August 15th and I don't know where summer is — but assuming it reappears and before the berries are gone, use them wisely and well. It is a rare cake that does not need frosting or whipped cream or ice cream, but this cake can just be eaten on its own.
For breakfast, add espresso. For lunch, a sip of white wine. For dinner, ice cream. I know, I said this cake does not need adornment, but just one scoop of buttermilk ice cream here is really a very good idea. For her clients at Cooking by the Book, Suzen always has ice cream. And she's found this cake is a perfect match.
This recipe comes from Michele Scicolone's latest wonderful volume: The Italian Vegetable Cookbook. With dessert ideas like this, even I can become a fan of vegetables.
Warm from the oven, wafting with the polenta aroma you cannot mistake, and bright withberry bites, this cake is one you'll make again and again.
---
Double Berry Polenta Cake

Yield: 8 servings

Ingredients:

1 cup unbleached all-purpose flour
⅓ cup fine yellow cornmeal
1 teaspoon baking powder
½ teaspoon salt
12 tablespoons (1 ½ sticks) unsalted butter, softened
¾ cup plus 2 tablespoons sugar
2 large eggs
1 teaspoon pure vanilla extract
½ teaspoon grated lemon zest
⅓ cup whole milk
1 cup raspberries
1 cup blueberries
Preparation:

Place a rack in the center of the oven and preheat the oven to 350 degrees.
Butter and flour a 9-inch spring form pan. Tap out the excess flour.
In a large bowl, whisk together the flour, cornmeal, baking powder, and salt.
In a large bowl, with an electric mixer on medium speed, beat the butter until creamy, about 2 minutes. Gradually add ¾ cup of sugar, until light and fluffy, about 3 minutes. Beat in the vanilla and lemon zest. Beat in the eggs one at a time, beating well after each addition and scraping down the sides of the bowl as necessary. On low speed, mix in half of the dry ingredients. Add the milk. Mix in the remaining dry ingredients just until smooth, about 1 minute.
Spread the batter in the pan. Scatter the berries over the top and sprinkle with the remaining 2 tablespoons sugar.
Bake for 45 minutes, or until the cake is golden brown and a toothpick inserted in the center comes out clean. Cool the cake in the pan on a rack for 10 minutes. Remove the pan rim and cool completely on the rack.
Cut the cake into wedges and serve.
Source: The Italian Vegetable Cookbook by Michele Scicolone

Photo Information Canon T2i, EFS 60 mm Macro Lens, F/4 for 1/30th second at ISO‑3200