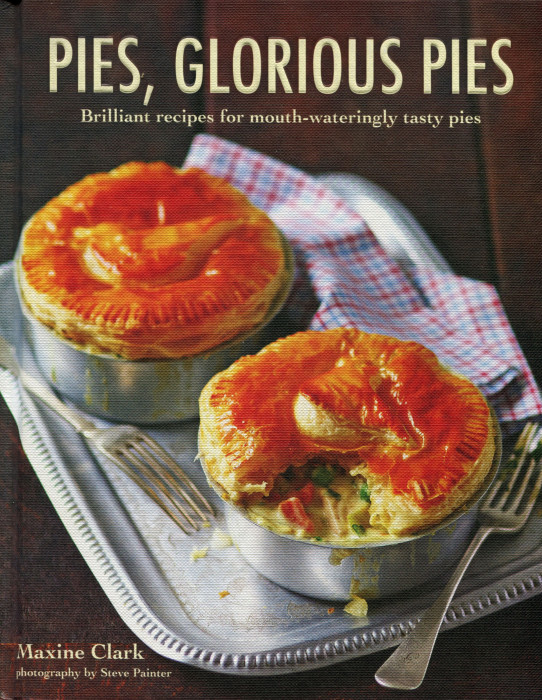 This recipe comes from a book titled Pies, Glorious Pies. The book has several lovely pastry recipes, all shown with a sequence of photos to guide you from flour to dough. Yes, pastry making is something that can trigger high anxiety. I can bake a cake or make a brownie. But dough making and that rolling out process? That seems to be a challenge that is just too high a barrier for most of us.
So, I can recommend Pies, Glorious Pies because, while I am pastry-challenged, I can make this dough with glowing success. And the other pastries in the book, too. It's liberating to know that quite sublime pastry is really easily possible.
This particular pastry is idea for meat pies, where a soft yet rich crust is needed to stand up the bold flavors of cooked meat, veggies and cheese. Yesterday's post for a Smoked Ham, Leek and Mushroom pie called for just this pastry. Author Maxine Clark, with many hours spent rolling out pastry dough, knows exactly how to assemble an outstanding pie: from pastry to filling. Pies, Glorious Pies is filled with examples.
I encourage you to try that Smoked Ham pie — in fact all the dishes in Pies, Glorious Pies. As you bake and learn, you are sure to want to invent your own pie mixtures. Those you can experiment with. But the pastry dough? This recipe cannot be better. Bake and enjoy.
In the recipe preparation below, there are numbers, 1-12. They refer to the photos in the book that guide you step by step. I'm leaving the numbers in. They are 12 good reasons for you to buy your own copy of Pies, Glorious Pies and benefit from the detail and education they provide.
---
French Butter Pie Pastry

Yield: enough to decorate a 1.5 quart pie mold or a 9X3X4 loaf pan

Ingredients:

2 ⅓ cups plain/ all-purpose flour
½ teaspoon salt
13 tablespoons salted butter, soft
2 egg yolks
3 tablespoons ice-cold water
Preparation:

THE CLASSIC WAY
Sift the flour and salt into a mound on a clean surface (1). Make a well in the middle with your fist (2). Place the butter and egg yolks in the well (3) and, using the fingers of one hand, 'peck' the eggs and butter together until they resemble scrambled eggs (-4). Flick the flour over the egg mixture (5) and chop it through with a palette knife until almost amalgamated. Sprinkle with the water (6) and chop again (7). Bring together quickly with your hands (8) and knead lightly into a smooth ball. Flatten (9), wrap in cling film/plastic wrap and chill for at least 30 minutes. Bring to room temperature before rolling out and using in the recipe.
IN THE FOOD PROCESSOR
This works well if you are scared of making pastry or have very hot hands, like me! Sift the flour and salt onto a sheet of baking parchment. Put the butter and egg yolks in the food processor (10) and blend until smooth. Add the water and blend again. Shoot in the flour (11) and work until just combined (12). Turn out onto a lightly floured surface and knead lightly until smooth. Form into a flattened ball, wrap in cling film/plastic wrap and chill for at least 30 minutes. Bring to room temperature before rolling out and using in the recipe.
Source: Pie, Glorious Pies by Maxine Clark and Steve Painter