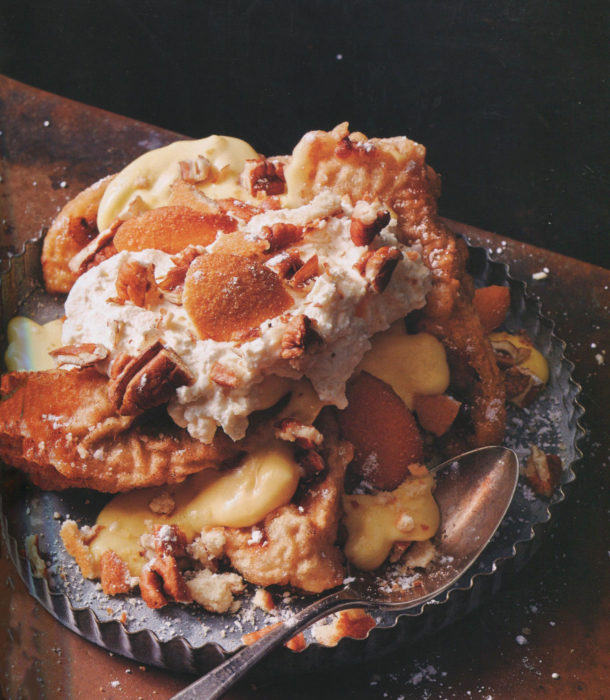 We all sin. Some of us more than others. But sin seems to be an inherent part of being human.
So is this dessert. I would not eat this on a weekly basis. But, oh, once a year? Heck yes.
It's pretty simple, for a complex dessert. Fry some bananas, top them with banana pudding, whipped cream, crushed vanilla wafers and chopped pecans. It's just layer after another. And, and, those nuts are surely healthy.
This recipe comes from The South's Best Butts by Matt Moore. Matt toured the Southeast, found idyllic barbecue spots and wrote about their meat wonders. And their desserts. This dessert is Deep South in every bite.
Come on. You know it sounds good. Just once. Just once.
There is some work involved here. I'm posting this on Friday, plenty of time to go shopping and prep for a fabulous Sunday dessert. Sin on Sunday.
---
Fried Banana Pudding
Yield: serves 12
Ingredients:
5 cups all-purpose flour
4 ½ cups (36 ounces) whole milk
5 tablespoons (about 3 ounces) malt vinegar
4 teaspoons baking powder
1 teaspoon kosher salt
Vegetable oil
6 unpeeled just-ripe bananas
¼ cup powdered sugar
6 cups prepared banana pudding
Sweetened whipped cream
¼ cup crushed vanilla wafers
¼ cup chopped pecans
Preparation:
Stir together the flour, milk, vinegar, baking powder, and salt in a large bowl to form a thick batter. Pour the oil into a Dutch oven to a depth of 3 inches; heat over medium-high to 350°F.
Cut the unpeeled bananas in half crosswise, and cut halves in half lengthwise. Peel the ban segments. Dredge the bananas in batter until evenly covered.
Carefully drop the bananas in hot oil, in batches, allowing them to sink to the bottom. Fry for about 10 seconds. Using metal tongs, arrange bananas so that they are not touching each other or the surface of the Dutch oven. Fry until the bananas are golden brown, about 1 minue.t Transfer the bananas to a plate lined with paper towels to drain. Repeat process with remaining bananas and batter.
Place 2 of the fried banana segments on each of 12 serving plates. Sprinkle evenly with the powdered sugar. Top with the banana pudding and 1 or 2 dollops of the whipped cream. Sprinkle with the crushed vanilla wafers and pecans. Serve immediately.
---
Source: The South's Best Butts by Matt Moore [Oxmoor House, 2017]