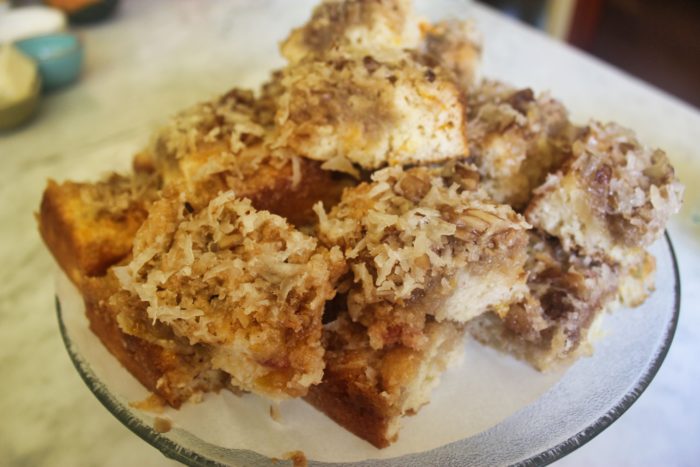 Remember fruit cocktail? We used to get it in grade school, though I doubt they do that anymore in the pizza-age. When was the last time you even bought a can of fruit cocktail? For Suzi and me, it was about forty years. But an amazing book, American Cake by Annie Byrn, gave us inspiration and reason.
We've been testing American Cake and I'll review it next week. A seminal history of American baking, and a book you want.
Back to fruit cocktail. Who thought of it? Del Monte pioneered canned fruit. As they made different kinds, they had leftovers. They took those leftovers, mixed them together and made fruit cocktail.
The idea of adding fruit cocktail to cake batter began in the mid-1950s, though I never experienced it growing up in Oregon. Neither did Suzi in Brooklyn.
The recipe has survived and been polished by Annie. It's a GREAT cake. Not sickly sweet. Impactful with fruit flavor and deliciously moist.
Next time you are in the supermarket aisle breezing passed the canned fruit, pause, grab a can of fruit cocktail and treat yourself to a lovely dessert.
---
Fruit Cocktail Cake
Yield: serves 12
Ingredients:
For the cake:
Butter and flour for prepping the pan
2 cups all-purpose flour
1 ½ cups granulated sugar
2 teaspoons baking soda
¾ teaspoon salt
2 large eggs
1 teaspoon vanilla extract
3 tablespoons fresh lemon juice
1 can (15.25 ounces) fruit cocktail, packed in juice
½ cup light brown sugar, firmly packed
½ cup grated unsweetened coconut
For the sauce:
¼ cup evaporated milk, cream, or buttermilk
¾ cup granulated sugar
1 teaspoon vanilla extract
½ cup (1 stick) unsalted butter
½ cup grated unsweetened coconut
1/2 cup chopped pecans or walnuts
Preparation:
For the cake, place a rack in the center of the oven, and preheat the oven to 35O°F. Lightly grease and flour a 13″ x 9″ baking pan, and shake out I the excess flour. Set the pan aside.
Place the flour, sugar, baking soda, and salt in a large mixing bowl, and] stir to combine well. Add the eggs, vanilla, lemon juice, and fruit cock-1 tail, and blend with an electric mixer on medium speed until smooth I but chunks of fruit cocktail remain, 1 to 2 minutes. Pour the batter into the prepared pan.
Stir together the brown sugar and coconut in a small bowl, and sprinkle ' this mixture over the top of the batter. Place the pan in the oven, and I bake until the cake is golden brown, 22 to 27 minutes.
While the cake is baking, prepare the sauce. Place the milk, sugar, vanilla, butter, coconut, and nuts in a medium-size saucepan and bring to a boil, stirring, over medium-high heat. Reduce the heat to low, and I let the sauce simmer until it begins to thicken, 3 to 5 minutes. Remove! the pan from the heat, and keep the sauce warm.
When the cake has baked, remove it from the oven, and immediately I pour the sauce over the cake. Let it cool to room temperature, about I 30 minutes, then slice and serve.
---
Source: American Cake by Annie Byrn [Rodale, 2016]
Photo Information: Canon T2i, EFS 60mm Macro Lens, F/2.2 for 1/4th second at ISO‑100