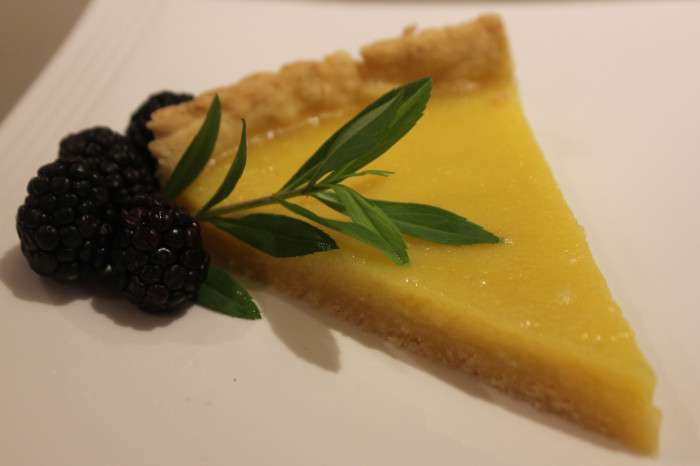 Suzi does a lot of work with celiac patients. We are the official test kitchen for the Center for Celiac Disease at Columbia University. Once a month, patients and their families come to Cooking by the Book to prepare an entire meal including dessert. Suzi has developed menus that anyone, anyone would enjoy. If you have celiac disease, you can and should eat meals that are wonderfully delicious. There should be no culinary sacrifice in your life.
This lemon tart is just sublime. The crust is soft yet rich. The lemon filling, from Fancoise Payard, is incredibly simple and equally incredibly delicious.
The rich color of the filling can let this dessert stand on its own. Or you adorn with berries and a sprig of something on the side. Or, or, you can add a little dollop of whipped cream or crème fraiche. Whatever you do for that final flair, the dish will bring pleasure to your table.
---
Gluten-Free Lemon Tart

Yield: serves 10

Ingredients:

For the crust:

1 ¼ cups gluten-free flour
1 tablespoon sugar
1 teaspoon salt
1 teaspoon xantham gum (if not already included the gluten free flour blend)
1 stick chilled butter, diced
1 large egg
For the lemon filling:

3 whole lemons, grated zest and juice reserved separately
3 large eggs
½ cup sugar
3 tablespoons butter, diced
Preparation:

Preheat oven to 400 F for 10 minutes. Meanwhile, on a clean work surface, add the flour sugar, and salt, and xanthan gum, if using. Stir together then add the butter, working quickly with your fingertips to incorporate butter and flour together to a coarse meal consistency. Make a well in the center, and add the egg, incorporating flour mixture and egg until fully mixed and holding together. Shape into a thick disk, wrap with plastic and chill for 20 minutes prior to rolling thin and lining a 10-inch fluted tart pan. Bake until cooked through, about 10 minutes.
Meanwhile Fill a medium saucepan 1/3 full with water and bring to a simmer.
In a bowl, whisk together the zest, lemon juice and eggs until smooth. Add the sugar and butter and place the bowl over the simmering water. The water must not touch the bottom of the bowl. Cook, whisking constantly, until the butter is completely melted and the mixture is smooth. Remove the bowl from the pan of hot water and allow the mixture to cool for 15 minutes.
Place the pre-baked tart shell on a baking sheet. Pour the filling into the shell and bake the tart for 8 to 10 minutes or until center is just set. Place a tart on a rack and allow to cool completely.
---
Source: King Arthur for the pie crust and Francois Payard [Food Network] for the filling