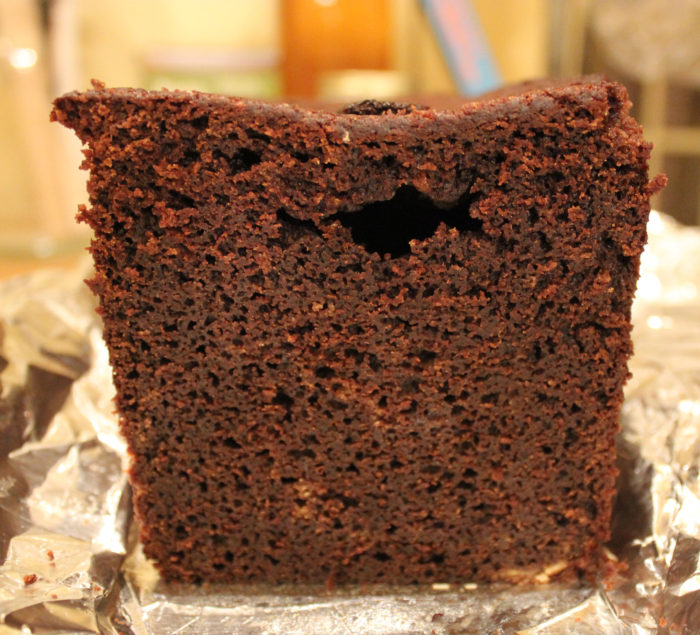 When people speak about Guinness, they just say Guinness, not beer. Guinness is a rich Irish stout beer. Stout? That just means strong. And strong Guinness is. When you take a sip, you know it is not Pabst Blue Ribbon.
The flavor is so distinct and so intense, that Guinness is often used as a key ingredient in cooking. Sometimes the recipes are pure comfort food: Pretzel Dog Beer Cheese Dip, Guinness Brownies, Irish Nachos, Cheese Guinness Bread, Guinness French Onion Soup.
Yes, that list had some brownies. And here we have a Guinness Malt Cake. Does it taste like beer? No. It is packed with cocoa so there is a dominant cocoa flavor tinted with the "stouty" or molasses flavor of the Guinness.
We did make the frosting and dribbled over slices but frankly this cake needs no frosting at all. Or, you could top with whipped cream or ice cream. Or do it all: frosting, whipped cream, and ice cream. Don't worry the cake is strong enough to handle anything. It's quite stout. Guinness stout.
---
Guinness Malt Cake
Yield: serves 8
Ingredients:
For the cake:
1 cup Guinness or other stout beer
2¼ sticks (9 oz) unsalted butter, plus extra for greasing
1 tablespoon molasses or black treacle
1 cup packed dark brown sugar or molasses sugar
¾ cup unsweetened cocoa powder
2 tablespoons malt powder
2 eggs
⅔ cup plain yogurt
2¼ cups all-purpose flour
2 teaspoons baking soda
1 cup superfine sugar
Pinch of sea salt
For the stout and cream cheese frosting:
⅓ cup Guinness or other stout beer
4 tablespoons unsalted butter, softened
½ cup cream cheese, softened
½ teaspoon vanilla extract
2 ½ cups confectioners' sugar, sifted
Preparation:
Preheat the oven to 325°F. Line a 9 x 5 x 3-inch loaf pan with parchment paper.
Put the Guinness, butter, molasses, and brown sugar into a small saucepan and melt over medium heat. Whisk in the cocoa and malt, then remove from the heat and let cool a little .
In a large bowl, whisk together the eggs and yogurt, then add the stout mixture.
Sift together the remaining dry ingredients into the bowl and whisk together to combine. Pour into the prepared pan and bake in the oven for about l¼ hours, or until a toothpick inserted into the center of the cake comes out clean. Cool the cake completely in the pan.
While the cake is cooling, make the frosting: put the Guinness in a small saucepan and bring to a boil. Boil for 10-15 minutes or until the beer has reduced by half its volume. Pour into a container and put it into the refrigerator to cool down.
In a mixing bowl, beat the soft butter until creamy and light. Add the cream cheese and beat until smooth. Add the vanilla and the sifted confectioners' sugar and beat well. Now add the cooled, reduced Guinness and beat until creamy and light. Turn out the cake from its pan and spread the frosting on top.
---
Source: Leon Happy Baking by Henry Dimbleby and Claire Ptak [Conran, 2019]
Photo Information: Canon T2i, EFS 60mm Macro Lens, F/3.5 for 1/30th second at ISO‑320