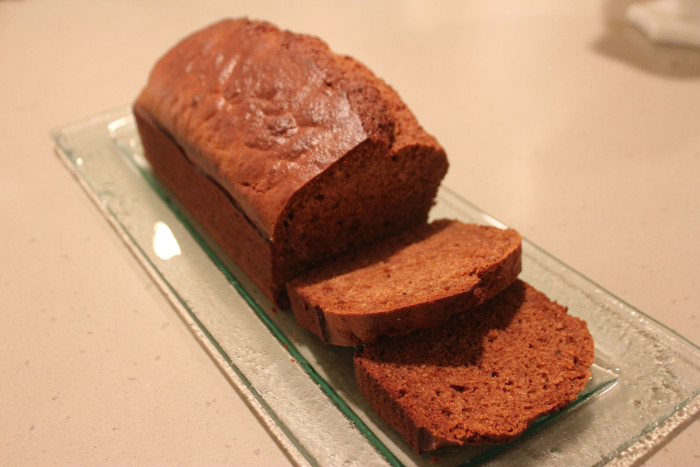 For this holiday season, how about a very different dessert from a place that is always, or almost always, cold. Here is a Honey Cake with Orange Buttercream recipe from Scandinavian Baking by Trine Hahnemann. It's a lovely book filled with recipes from a part of Europe that we too often pass by, as we look at pasta and truffle and cream sauce recipes.
I reviewed Scandinavia Baking earlier, and Suzi and I are taking the book away for Christmas week. You'll seen some other ideas from as we bake and eat. Honey was the traditional Scandinavian sweetener, not sugar. You can generate many versions of this cake, all by just shifting the flavor profile of the honey you employ.
Ah, the picture. Where's the buttercream? We stopped the cake, but I'm putting the full recipe here. There's orange buttercream and an optional orange frosting. The Sunday we made this, we were already sugared out. And we totally enjoyed this dense, sweet, citrus-scented cake all on its own.
You'll want espresso. Deep and dark. Perfect match. Let it snow.
---
Honey Cake with Orange Buttercream

Yield: Serves 10

Ingredients:

For the cake:

7 tablespoons butter, plus more for the tin
4 ½ ounces honey
3 eggs, lightly beaten
⅓ cup soft brown sugar
2 ⅓ cups all-purpose flour
1 ½ teaspoons bicarbonate of soda
3 teaspoons ground cinnamon
2 teaspoons ground ginger
1 teaspoon ground cloves
2 tablespoons finely grated organic orange zest
⅞ cup creme fraiche
For the buttercream:

1 ⅛ cups butter, softened
1 ¼ cups powdered sugar
Finely grated zest of 2 organic oranges
For the frosting [optional]:

2 to 3 tablespoons orange juice
1 ⅓ cups powdered sugar
1 tablespoon finely grated organic orange zest
Preparation:

Preheat the oven to 350°. Butter a 12 x 4 ½ inch pan and line the base with parchment paper.
Melt the butter and honey in a saucepan and let cool a little. Meanwhile mix the eggs and brown sugar together with an electric mixer until light and paler in color Sift in the flour, bicarbonate of soda, and all the spices and fold in gently, then do the same with the honey mixture. Finally, fold in the zest and creme fraiche and pour into the prepared tin.
Bake 1 hour Insert a skewer into the middle of the cake; it should emerge clean. Let cool on a wire rack.
Meanwhile, make the buttercream: in a small bowl, beat all the ingredients until smooth. Cover and keep cold until you need it. When the cake is cold, cut it horizontally into three with a serrated knife. Spread the buttercream to the bottom and middle layers, then reassemble the cake.
Mix all the ingredients for the frosting (if using) and spread it over the top. Leave the frosting to set before serving.
---
Source: Scandinavian Baking by Trine Hahnemann [Quadrille, 2016]

Photo Information: Canon T2i, EFS 60mm Macro Lens, F/3.5 for 1/30th second at ISO‑2500