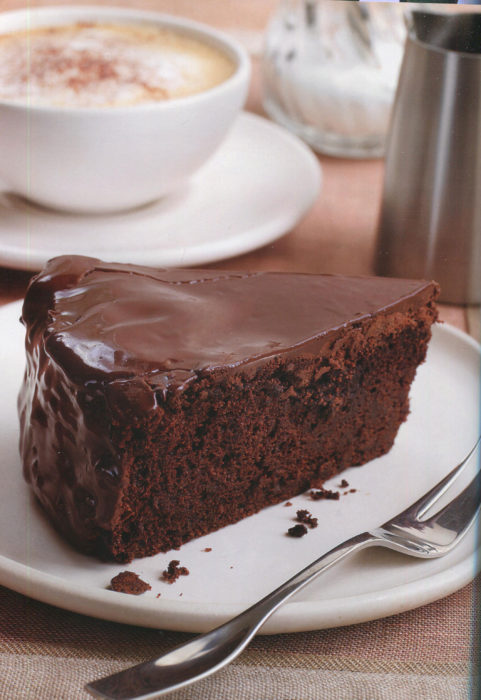 The Italian Regional Cookbook by Valentina Harris is a 600-page bible of Italian recipes. And, techniques. This cake, beautiful to behold, is quite unusual in the way it is made. Normally, when using beaten egg whites, you reserve them to the end and carefully fold them into the batter as the final step.
Here, it is just the opposite. You start with the egg whites and fold everything else in over different stages. When Suzi and I return from our trip to Utah and New Mexico next week, this is the first recipe on our list.
There is quadruple chocolate/caffeine intensity here: melted bittersweet, espresso, and unsweetened cocoa powder for the cake itself. Then the "frosting" is simply melted chocolate. No messing with confectioners' sugar. Just down and dirty cocoa.
I'll never sleep again.
---
Italian Chocolate Cake
Yield: serves 6 to 8
Ingredients:
½ cup unsalted butter, cubed, plus extra for greasing
9 ounces dark/bittersweet chocolate, chopped
5 large/US extra-large eggs, separated
2 tablespoons espresso [espresso, not the powder]
1 cup caster/ superfine sugar
1 teaspoon baking powder
2 tablespoons unsweetened cocoa powder
1 cup plain/all-purpose flour
14 ounces chocolate, melted, to cover
Preparation:
 Preheat the oven to 350°F. Grease and line a 9-inch loose-based cake tin pan with baking parchment.
Melt 9 ounces of the chocolate in a heatproof bowl over a pan of gently simmering water. While the chocolate is melting, put the egg whites into a clean, grease-free bowl and whisk until they form stiff peaks. Remove the melted chocolate from the pan and stir in the butter, then add the coffee.
Carefully fold the sugar into the egg whites. Measure the baking powder with the cocoa powder and flour into a bowl. Stir the egg yolks into the melted chocolate mixture, then gently fold this mixture into the egg whites.
Sift over the baking powder, cocoa powder and flour mixture and gently fold in with a large metal spoon until the dry ingredients are completely incorporated, but taking care not knock out too much air. Turn into the prepared tin.
Bake for 40 minutes, or until a skewer inserted into the middle comes out clean. Leave to cool in the cake tin.
Melt the remaining chocolate in a heatproof bowl over a pan of gently simmering water. Turn out the cooled cake and cover with melted chocolate. Leave to set before serving.
---
Source: The Italian Regional Cookbook by Valentina Harris [Lorenz Books, 2018]