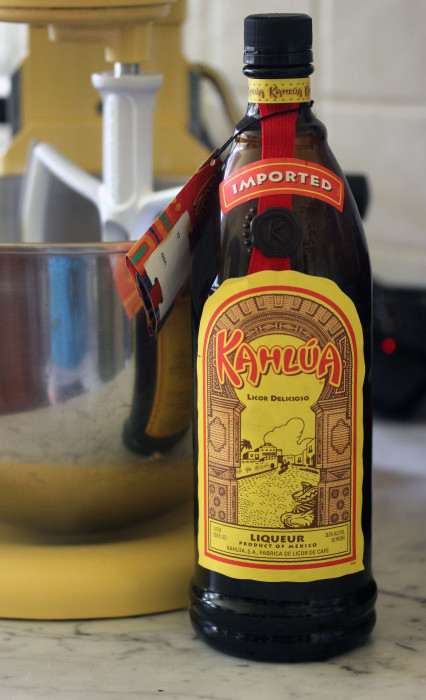 This coming Sunday is Mother's Day and it may just be time for husbands and kids to spend some time in the kitchen. Make Mom a cake. Frost the cake. See Mom smile.
Actually, see Mom roll her eyes when you surprise her with a spectacular frosting that transforms any cake — white, yellow, chocolate — into a carousel of flavor. I don't think there is enough Kahlua here to really cause a problem for the kids. If you are sensitive to the alcohol issue, you can substitute an equal volume of coffee. But if you can, use the Kahlua for its very specific flavor profile.
You can play with this recipe by adding in a teaspoon of espresso powder, or additional vanilla. Here the recipe calls for ½ teaspoon vanilla, an amount that appears to be "traditional." Do you really measure carefully? Have you ever just put in a full teaspoon instead? Or a tablespoon? It takes a lot of vanilla to make a difference. It really does.
And if you need a good cake recipe, please use the search box here on this blog. There are 240 different cake recipes available to you [that includes crab cakes, which I would discourage with this frosting].
Kahlua Frosting
Yield: 4+ cups
Ingredients:
1 cup unsalted butter
⅓ cup Kahlua
½ teaspoon vanilla extract
5 cups powdered sugar
Milk or heavy cream as needed, if needed
Preparation:
In the bowl of an electric mixer fitted with paddle attachment, beat the butter for 2 minutes on medium speed. Add the Kahlua and vanilla extract and beat for an additional minute. Adjust the speed to low and add the powdered sugar 1 cup at a time until well incorporated. Add more powdered sugar to thicken the frosting or some milk/cream to loosen to a spreading consistency.
Source: Frostings by Courtney Dial Whitmore
Photo Information: Canon T2i, EFS 60 mm Macro Lens, F/2.8 for 1/100th second at ISO‑800