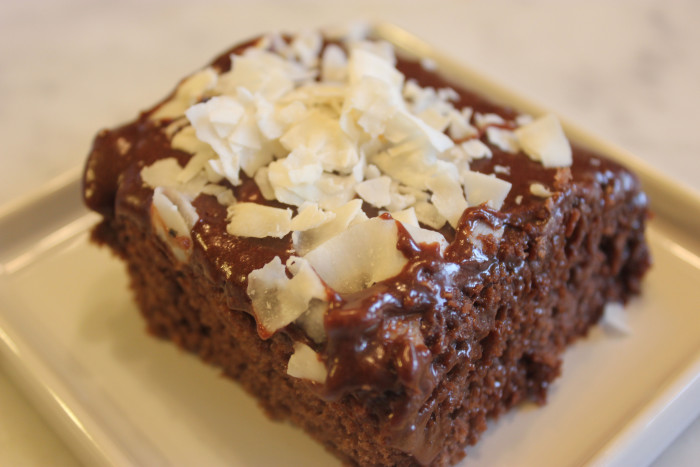 I recently posted a review of a lovely book, Fika: The Art of Swedish Coffee Break. We often think of coffee or espresso being consumed in a Paris café or an Italian square. But the Swedes drink more per capita and they do it with fervor. Coffee is not enjoy in solitary. The Swedes have a wonderful tradition of having coffee paired with sweet treats.
In Fika you'll find a wide range of ideas, all good, all with a Swedish slant on cooking style and ingredients. If you like cardamom, you'll like Fika.
And, of course, if you like chocolate, you will devour these cookie square. They are very similar to a soft, velvety brownie topped with rich coffee-chocolate ganache and then double topped with unsweetened coconut. Yes, you do want to use unsweetened coconut. Suzi and I tested because the cookie and ganache themselves have a boatload of sugar. The unsweetened coconut is a very welcome, almost necessary, contrast.
You'll find this recipe easy to make and it can just sit around in your kitchen all week as you dabble for your morning coffee, a lunchtime break, an afternon snack, or that piece you sneak when your spouse is asleep. Or you think she is. I have been busted more than once.
---
Karleksmums: Chocolate Coffee Squares

Yield: 24 squares

Ingredients:

For the cake:

10 tablespoons (5 ounces) unsalted butter
2 cups (10 ounces) all-purpose flour
4 tablespoons unsweetened cocoa powder
2 teaspoons baking powder
½ teaspoon salt
2 eggs
1 cup natural cane sugar
¾ cup milk
1 teaspoon vanilla extract
For the ganache:

½ cup heavy cream
3 tablespoons cold coffee
4 ounces 70% bittersweet dark chocolate
2 tablespoons butter
Powdered sugar as needed
For the topping:

½ cup unsweetened shredded coconut
Preparation:

In a separate bowl, whisk the eggs together with the sugar until frothy. Add the milk, melted butter, and vanilla and whisk until well blended. Sift and fold in the flour mixture and keep folding until you have a smooth and even batter. Pour the batter into the baking pan.
Bake for 12 to 17 minutes. The cake is done when a toothpick or knife inserted into the center comes out clean. Remove from the oven and let cool.
To prepare the ganache, heat the cream and coffee in a saucepan over medium heat until the liquid starts to bubble around the edges. Lower the heat and add the chocolate, stirring constantly until melted. Turn off the heat, add the butter, and stir until melted. Let cool for about 1 hour. If the ganache is too liquid and not spreadable, add and whisk in enough powdered sugar to achieve the proper consistency.
Spread the ganache over the cake and top with shredded coconut. Cut into 24 equally sized squares to serve.
Store in an airtight container in the refrigerator or in the freezer.
---
Source: Fika: The Art of the Swedish Coffee Break by Anna Brones and Johanna Kindvall [Ten Speed Press, 2015]

Photo Information [top and bottom]: Canon T2i, EFS 60mm Macro Lens, F/4.5 for 1/50th second at ISO‑500