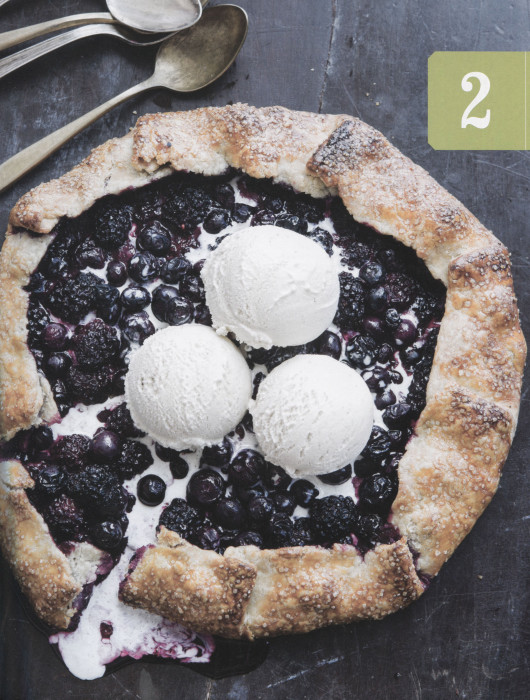 Kim Laidlaw's Dessert of Day has lovely recipe ideas for every single day of the year. This gallant galette is perfect for the coming 4th of July holiday. On the 4th, you may be overbooked. There's the fireworks, of course, but also that feast before. Perhaps a picnic, soccer games or a family outing. You may even be spending time in the parking lot of the grocery store searching for a place to park. Why do we all shop at the last minute?
Oh, dessert. On the 4th you want dessert and the 4th deserves something really special. The next big holiday isn't until Halloween. This July summer day and evening mean a lot.
Kim has this galette idea that lets you easily prepare a dessert pleasing both your mouth and your eyes. More and more we make galettes instead of pies because, well, it's easier. It's just plain easier. I'm a pie guy and I love my upper crust, perhaps thick, solid and crusted with egg and sugar or perhaps woven from strips of dough in some pattern that is almost too pretty to cut. Almost. No pie can or should withstand the knife.
It's just that with the galette, there is less fuss. If you've ever tried to put a top crust on and failed, failed with disaster, then you know the feelings that can then arise with every new pie project. The fear, the dread of crust. With a galette, you fold the damn thing over and proclaim it a work of art. Done.
It doesn't quite seem fair. It's almost cheating. But it is not because the French invented this and do it all the time so it is not wrong and not a sin. It's a galette.
This recipe, and the picture, calls for blue and blackberries. If you are making this on the 4th, then strawberries give you the red of the Red, White, and Blue. The ice cream is the white, although I understand in France they sometimes put whipped cream on top. It's probably not French at all, I know. Some American ex-pat living in Normandy, sipping calvados, and being grateful that no one there does an upper crust.
---
Mixed Berry Galette

Yield: serves 6-8

Ingredients:

Flaky Pie Dough for single crust, recipe follows
2 cups blackberries
2 cups blueberries
2 tablespoons lemon juice
¼ cup granulated sugar
3 tablespoons all-purpose flour
1 large egg, beaten with 1 tsp water (optional)
1 tablespoon turbinado sugar (optional)
Vanilla ice cream for serving
Preparation:

Prepare the dough and chill as directed below. Preheat the oven to 425°F. Line a baking sheet with parchment paper.
On a lightly floured work surface, roll out the dough into a round about 12 inches in diameter and about ⅛-inch thick. Transfer to the prepared sheet.
In a bowl, toss together the berries, lemon juice, granulated sugar, and flour. Spoon the filling onto the dough, leaving a 2-inch border uncovered around the edge. Fold the edge up and over the filling, forming loose pleats. Brush the border with the egg wash and sprinkle with the turbinado sugar, if you like.
Bake until the filling is bubbling and the pastry is golden brown, about 25 minutes. Let cool slightly on a wire rack before serving with scoops of ice cream.
---
Flaky Pie Dough for Single Crust

Ingredients:

1 ¼ cups (200 g) all-purpose flour
¼ teaspoon kosher salt
2 teaspoon sugar
7 tablespoons cold unsalted butter, cut into pieces
5 tablespoons ice water, plus more if needed
Preparation:

In the bowl of a food processor, combine the flour, salt, and sugar. Sprinkle the butter over the top and pulse for a few seconds, or just until the butter is slightly broken up into the flour but still in visible pieces. Evenly sprinkle the water over the flour mixture, then process just until the mixture starts to come together. Dump the dough into a large zip-top plastic bag and press into a flat disk. Refrigerate for at least 30 minutes and up to 1 day before using, or freeze for up to 1 month.