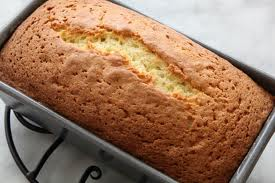 Full disclosure: we have not made this cake yet, but we sure are this coming weekend. We have a birthday party where there will be plenty of kids and lots of adults. The kids get a traditional birthday cake with equally high layers of cake and frosting. We will be serving their parents this "adult" pound cake with perhaps an "adult" topping. Oh, say, a Kahlua-based glaze over these mocha babies.
We have already baked using Desserts from the Loveless Café — items coming soon to this blog! — and we know something that you need to: this is one great baking book.
For many of us, too many of us, the neighborhood "bakery" is a nook nestled to the side somewhere inside our supermarket. The cakes there may be, despite that haggard looking frosting, okay. But they are mass produced and there is no sense of "craft" to them.
For bakery greatness, you need — oh, golly gee — a bakery. A real, honest to God bakery. A bakery people talk about, sometimes dream about, and drive to from miles away 'cause there isn't anything else like it.
Loveless Café in Nashville is one of those gems. Technically, it's a regional gem for the lovely recipes here include:
Root Beer Float Cake
Sorghum Spice Cake with Lemon Glaze
Brown Sugar Buttermilk Pound Cake
If you are eating a goodie like one of these at a countertop, then you are probably on the warm side of the Mason-Dixon Line.
There actually are things better than chocolate. Not many, it is true, but some. And mocha is one of them. Cocoa and coffee together have a power that is irresistible. Need to pull an all-nighter? You can do Starbucks until 11PM but they do eventually close. A couple of these cakes should get you through the night.
Easily made, these cakes are just perfect for a party where the "head count" a week away is still just a tad unclear. On Saturday night, Suzi and I will be with our family in Austin, baking away, making sure that the boys do not steal too much batter, and doing what families do best: sharing the kitchen.
Mocha Pound Cake
Yield: three 5-inch loaves serving 2 to 3 persons each
Ingredients:
2 sticks (8 ounces) unsalted butter, softened
2 cups sugar
2 tablespoons freshly ground dark roast coffee beans
1 teaspoon vanilla extract
¼ teaspoon salt
3 whole eggs plus 3 egg yolks
1 ½ cups cake flour
⅔ cup unsweetened cocoa powder (not Dutch process)
⅔ cup sour cream
Preparation:
Preheat the oven to 350°F. Grease 3 small loaf pans, 5 by 3 by 2 inches. Line the bottoms with parchment paper and grease the paper.
In a mixing bowl, cream the butter with the sugar, coffee, vanilla, and salt until light and fluffy. Add the whole eggs and egg yolks gradually, beating and scraping the bowl between additions to blend well.
Sift the cake flour and cocoa over the top of the batter. Fold just a few times, then add the sour cream and fold everything together until no streaks remain. Divide the batter evenly among the 3 prepared pans; there will be about 1 1/2 cups batter for each.
Bake for about 1 hour, or until a toothpick or cake tester inserted in the center of a cake comes out clean. Let the cakes stand in the pans for 5 to 10 minutes before inverting and removing them from the pans. Peel off the paper and let the cakes cool completely on a rack before slicing.
Source: Desserts from the Loveless Café by Alisa Huntsman