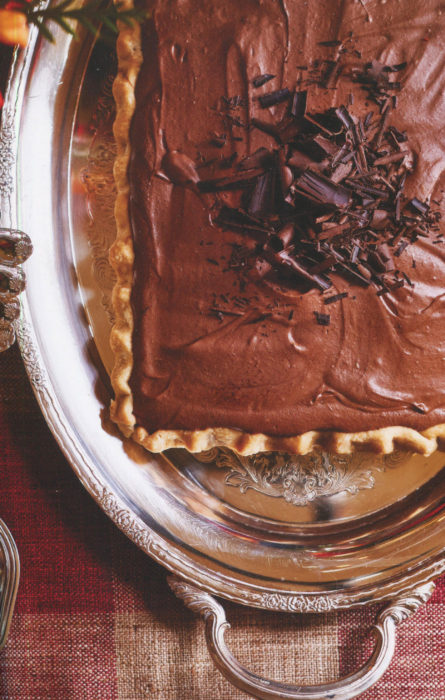 In Wednesday's cookbook review for The Art of the Host, I noted that the 100 recipes in the book are gathered into twelve chapters for holiday events. The first holiday in the book? Thanksgiving. Dessert for author Alex Hitz is cardinal so he has three for this special day: pecan tart, apple confit, and his mother's French Silk Pie. Alex is from Atlanta so no Yankee pumpkin pie. No, his mother had a decidedly French influence in her life, transferred to her son, so we this powerful chocolate dessert, the Silk Pie to be topped with Bourbon Flavored Whipped Cream.
I know this is supposed to be a special dessert for a special day, but I would welcome this treat any day of the year. It is one our menu for this Thanksgiving and I'll have an updated recipe and photos for you on the Friday after Turkey day.
This recipe calls for a crust of Pâte Brisée and that Bourbon Whipped Cream. Both those recipes appear in the book, and I'm teasing you here to go out and get your own copy. There are menus for eleven other holidays here, folks!
Ah, one factor to consider here. The filling is made with whole eggs which are not cooked, merely refrigerated. You may want to invest in pasteurized eggs.
---
My Mother's French Silk Pie
Yield: serves 12
Ingredients:
Perfect-Every-Time Pâte Brisée, [page 27 in the book]
8 ounces unsweetened chocolate, divided
2 teaspoons espresso powder
3 sticks (¾ pound) butter, at room temperature
2¼ cups sugar
1 tablespoon plus 1 teaspoon vanilla extract
3 tablespoons Grand Marnier
1 teaspoon salt
6 eggs
Bourbon Whipped Cream, [page 52 in the book – you really want this book]
Preparation:
Melt 6 ounces of the chocolate with the espresso powder in a heavy saucepan or a double boiler over low heat. Stir them together until the chocolate is smooth. Set the chocolate aside to let it cool completely.
Place the butter and sugar in the bowl of an electric stand mixer fitted with the paddle attachment, and beat them on medium high until they are light and fluffy, 6 to 7 minutes. Add the cooled chocolate-espresso mixture, vanilla, Grand Marnier, and salt, and beat the mixture until everything is fully incorporated. Add 3 of the eggs, one at a time, and beat the mixture for an additional 5 minutes. Add the last 3 eggs, one at a time, and beat the mixture for another 5 minutes. Using a rubber spatula, pour the filling into the cooled crust.
Chop the remaining 2 ounces of chocolate. Sprinkle the top of the pie with one-half of the chopped chocolate, cover it with plastic wrap, and let it chill in the refrigerator for at least 6 hours, preferably overnight. Before serving, top the pie with the Bourbon Whipped Cream and garnish it with the remaining chopped chocolate.
---
Source: The Art of the Host by Alex Hitz [Rizzoli, 2019]