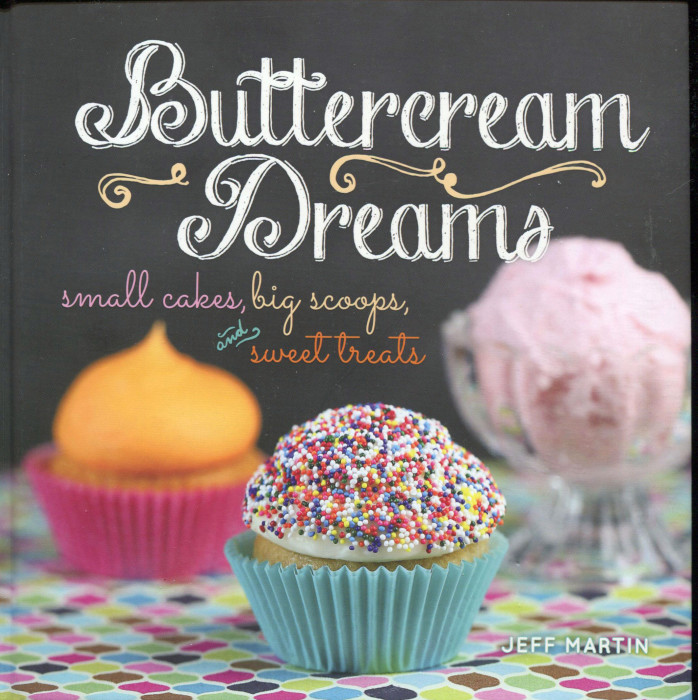 When I was five, I lived on a dead end street at the far north end of Portland, Oregon. By the time the ice cream truck got to my house, it was iffy. What would be left? The ice cream sandwiches were always gone. The Fudgesicle rarely made it that far. But on a good day, I could take my fifteen cents and get an Orange Creamsicle.
Perhaps author Jeff Martin of Buttercream Dreams grew up on a similar street, in similar circumstances. For in Buttercream Dreams, he has doubled down: an orange cupcake with luscious orange buttercream frosting.
We eat oranges themselves and we devour orange juice. But when was the last time you enjoyed that unique, snappy flavor in a baked good? This is the perfect recipe to expand your baking flavor portfolio.
Remember this: the frosting is supposed to go on the cupcakes, not on your fingertips!
---
Orange Creamsicle Cupcakes

Yield: 12 full sized cupcakes

Ingredients:

For the cupcakes:

2 cups all-purpose flour
¼ teaspoon baking powder
¼ teaspoon baking soda
½ teaspoon salt
½ cup butter, at room temperature
1 cup granulated sugar
1 ½ tablespoons finely grated orange zest (from about 1 ½ oranges)
2 large eggs
¾ cup heavy cream (for lighter texture use half-and-half)
¼ cup orange juice, freshly squeezed
1 ½ teaspoons orange extract
1 teaspoon pure vanilla extract
For the orange buttercream:

3 cups confectioners' sugar
1 cup (2 sticks) unsalted butter
1 teaspoon pure vanilla extract
1 to 2 tablespoons heavy cream
1 tablespoon orange extract
¼ teaspoon orange food coloring
Preparation:

To make the cupcakes, preheat the oven to 350°F. Line a 12-cup muffin tin with paper cupcake liners.
In a large bowl, whisk together the flour, baking powder, baking soda, and salt, and set aside.
In a large bowl using a hand mixer, blend together the butter, sugar, and orange zest on medium-high speed until pale and fluffy, about 3 to 4 minutes. Mix in the eggs one at time, blending well after each addition.
Measure the cream into a liquid measuring cup, and stir in the orange juice, orange extract, and vanilla extract. With a hand mixer on low speed, work in three separate batches, blending in the flour mixture alternating with the cream mixture. Be sure to begin and end with the flour mixture. Mix just until combined after each addition.
Fill each cup three-quarters full with batter. Bake for 23 to 25 minutes, rotating the muffin tin once halfway through baking, until a toothpick inserted into the center of a cupcake comes out clean. Let cool several minutes before transferring to a wire rack. Let cool completely before frosting.
To make the orange buttercream, in a stand mixer fitted with the whisk attachment, mix together the confectioners' sugar and butter. Mix on low speed until well blended and then increase the speed to medium and beat for another 3 minutes.
Add the vanilla, cream, orange extract, and orange food coloring and continue to beat on medium speed for 1 minute more, adding more cream for the desired consistency if needed.
Transfer the frosting to a pastry bag fitted with a plain tip and pipe a swirl of frosting on top of each cupcake. Store in an airtight container at room temperature for up to 3 days.