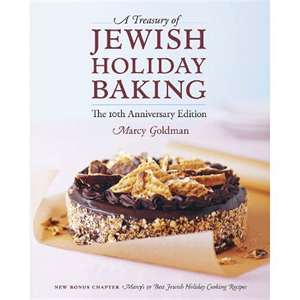 I've already posted one holiday cake recipe today, Aunt Sassy's Cake with a Honey Vanilla Buttercream.
"That takes care of Easter," Suzen said. "What about Passover?"
Suzen is graceful in our mixed marriage, but she has a point. I have not been overly dedicated to Jewish holiday foods, particular for Passover. I am not a matzoh fan.
So, having stirred true inner Jewish guilt in my lapsed Catholic soul, Suzen has sent me on a mission. Not a two year Mormon Mission with a same-sex buddy by my side 24 X 7. Just a recipe mission for this Passover weekend.
I searched, looking for something that would appeal to my fellow sugar addicts. Something that a dedicated dessert lover would look at and feel the urge to taste and then devour. I got lucky.
From Marcy Goldman's A Treasury of Jewish Holiday Baking, and as repeated at Epicurious.com, here is a honey treat: Passover Honey Nut Cake in Soaking Syrup. In her notes, Marcy tells how fellow authors Copeland Marks and Joan Nathan indicate this cake has deep Turkish roots. Its rampaging spectrum of spice and citrus tones will surely remind you of a Mediterranean day.
Happy holidays. I do feel less guilt.
Passover Honey Nut Cake in Soaking Syrup
Yield: serves 10-12
Ingredients:
For the cake:
¾ cup granulated sugar
¼ cup brown sugar
¼ cup vegetable oil
3 eggs
3 tablespoons orange juice
1 teaspoon finely minced orange zest
¼ teaspoon salt
¼ teaspoon ground cinnamon ( or 1/2 teaspoon for a more pronounced cinnamon flavor)
½ cup matzoh cake meal
½ cup finely chopped hazelnuts or almonds
1 cup finely chopped walnuts
For the soaking syrup:
⅔ cup granulated sugar
¼ cup honey
⅓ cup orange juice
¼ cup water
1 tablespoon lemon juice
¼ teaspoon ground cinnamon
Preparation:
Preheat the oven to 350°F. Generously grease a 7-inch round layer cake pan (if you do not have one, you can use a round foil pan of the same or similar size available in the supermarket baking aisle).
For the Cake:
In a medium-sized mixing bowl, using a wire whisk, beat the granulated and brown sugars with the oil and eggs until the mixture is thick and pale yellow. Stir in the remaining batter ingredients. Turn the batter into the prepared pan.
Bake for 35 to 40 minutes, or until the top is light brown and set. Cool for at least 20 minutes. Meanwhile, prepare the Soaking Syrup.
For the Soaking Syrup:
In a medium saucepan, combine the ingredients. Heat to dissolve the sugar and simmer for 5 to 10 minutes, until the mixture becomes syrupy. Cool well.
Pour the cooled syrup over the cooled cake, poking holes in the cake with a fork, to permit the syrup to penetrate. Allow it to stand for 2 to 4 hours to absorb the syrup. I prefer to refrigerate this cake so that while it is absorbing the liquid, it is also firming up. Also, chilling the cake offsets its sweetness and makes it easier to cut. Serve it on splayed muffin liners.
Source: A Treasury of Jewish Holiday Baking by Marcy Goldman