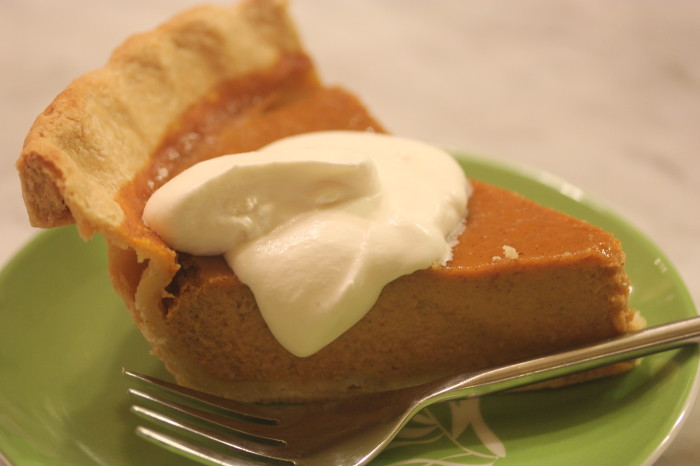 There are a large number of pumpkin pie recipes. In doing a google search last week, I began to think there might be one recipe per person on the planet. I don't think I'm wrong.
What do these recipes all have in common: pumpkin, either canned or a real pumpkin to be cooked in the process. Beyond the pumpkin, almost nothing is in common. Here are five recipes using canned pumpkin and it's a maze to wander through all the ingredients combinations. Some have sugar, some get their sweetness from condensed milk. Or molasses. Some have egg, some not.
Ginger is used in most, but not all of the pies. Nutmeg, cinnamon, ginger and cloves are all employed somewhere along the line, although in a recipe with most of these ingredients the amounts are small, ⅛ of a teaspoon. Sometimes there is egg white along with the eggs.
What does it all mean? Apparently, there are many ways to pumpkin pie nirvana. The differences will be in texture and flavor subtleties. For Christmas, Suzen and I will be doing a grand experiment. The ingredient lists are shown below for our five pies of interest but not the actual preparation techniques. Suzen and I will be reviewing both ingredients and techniques to try to come up with a Grand Theory of Pumpkin Pie.
We'll let you know the results.
Oh, physicists are in pursuit of a Grand Theory of Everything. Suzen and I are more modest but we would be happy to accept any Nobel prizes that come our way. Chemistry? Medicine?
Bourbon Pecan Pumpkin Pie
1 16-ounce can pumpkin
3 large eggs
1 ¼ cups dark brown sugar
1 ½ cups half-and-half or light cream
¾ cup bourbon
½ teaspoon ground ginger
¼ teaspoon salt
2 cups pecan halves
Perfect Pumpkin Pie
1 15-ounce can pumpkin
1 14 ounce sweetened condensed milk
1 teaspoon ground cinnamon
½ teaspoon ground ginger
½ teaspoon ground nutmeg
½ teaspoon salt
Spiced Pumpkin Pie
⅔ cup golden brown sugar
½ cup sugar
2 tablespoons all-purpose flour
½ teaspoon salt
½ teaspoon ground cinnamon
⅛ teaspoon ground allspice
⅛ teaspoon cloves
⅛ teaspoon ground ginger
1 ½ cups canned pumpkin
2 tablespoons molasses
3 large eggs
1 cup whipping cream
Old Fashioned Paradise Pumpkin Pie
1 8-ounce package cream cheese
¼ cup white sugar
½ teaspoon vanilla extract
1 egg beaten
1 ¼ cups pumpkin puree
1 cup evaporated milk
2 eggs beaten
¼ cup packed brown sugar
¼ cup white sugar
1 teaspoon ground cinnamon
¼ teaspoon ground nutmeg
¼ teaspoon salt
2 tablespoons all-purpose flour
2 tablespoons born sugar
2 tablespoons butter, soften
½ cup chopped pecans
Fluffy Pumpkin Pie
½ cup sugar
1 teaspoon ground cinnamon
½ teaspoon grated nutmeg
¼ teaspoon ground cloves
¼ teaspoon ground ginger
½ teaspoon salt
1 cup canned pumpkin
1 cup milk
2 large eggs plus 1 large egg yolk
1 large egg white, stiffly beaten