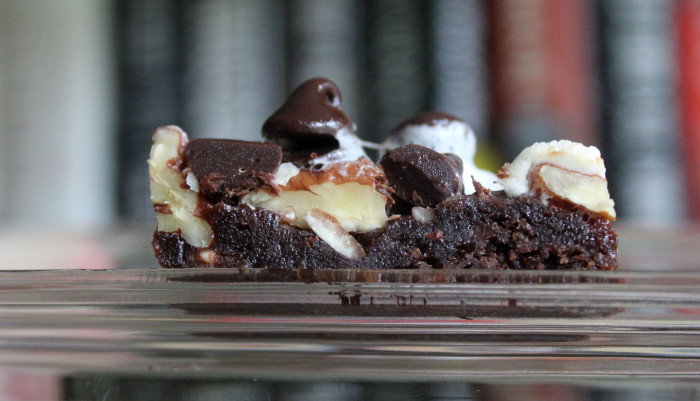 Around this time of year, there is a tendency to "go for it" when it comes to desserts. That chocolate roulade or the extra-dense pumpkin pie topped with cinnamon flavored whipped cream. Even our cookies get a holiday coating of extra stuff. Here, there are three extras: marshmallow, nuts, and chocolate chips. This a true holiday extravaganza.
Nancy Baggett's All-American Cookie Book is now fourteen years old and still going strong. A primary reason is the care Nancy took for each and every one of the hundreds of recipes in the book. For example, her Rocky Road Brownies are topped with marshmallow and then chocolate chips and then chopped nuts. A standard rocky road brownie is topped with chocolate glaze.
Nancy's result is gooey and crunchy. Which is, of course, exactly what you want in something that is "rocky road" but not a smooth paved road. Here you have a rutted, rumbling old country road. And just like an old road slows down your car, here this more complex topping invited you to slow down your bite, breathe in the amalgam of scents, and enjoy dense treat.
Nancy traces this rocky history of this cookie in her headnotes. The pairing of chocolate and marshmallow is usually done in some fudge concoction. In 1921 the Boston Cooking-School Cook Book had a recipe for a still-warm chocolate cake covered with cut-up marshmallows, then topped with fudge frosting. That's a yummy idea. If you don't have that 1921 cookbook handy, you have this recipe.
It tastes even better than it looks.
---
Rocky Road Brownies

Yield: 16 2-inch squares

Ingredients:

6 tablespoons unsalted butter, cut into chunks
2 ½ ounces bittersweet (not unsweetened) or semisweet chocolate, broken up or coarsely chopped
2 ounces unsweetened chocolate, broken up or coarsely chopped
⅔ cup sugar
⅔ cup all-purpose white flour
¼ teaspoon baking soda
¼ teaspoon salt
2 large eggs, plus 1 large egg yolk
2 teaspoons vanilla extract
1 cup (4 ounces) chopped walnuts or pecans
1 ⅓cups miniature marshmallows
¾ cup semisweet chocolate minimorsels
Preparation:

Preheat the oven to 350 degrees F. Lightly grease a g-inch square baking pan or coat with nonstick spray. Line the pan with aluminum foil, letting the foil overhang two opposing sides of the pan by about 2 inches.
Grease the foil or coat with nonstick spray.
In a medium, microwave-safe bowl, microwave the butter and chocolates on 100-percent power for 1 minute. Stir well. Continue microwaving on 50-percent power, stirring at 30-second intervals. Stop microwaving before the chocolates completely melt and let the residual heat finish the job. (Alternatively, in a medium, heavy saucepan, melt the butter and chocolates over lowest heat, stirring frequently; be very careful not to burn. Immediately remove from the heat.) Stir the sugar into the chocolate mixture until well blended. Let cool to warm.
In a small bowl, thoroughly stir together the flour, baking soda, and salt; set aside. Beat the eggs and egg yolk, one at a time, into the chocolate mixture. Add the vanilla, stirring vigorously until the mixture is completely smooth and shiny. Stir in the flour mixture until evenly incorporated Turn out the batter into the baking pan, spreading to the edges.
Bake in the middle of the oven for 10 to 12 minutes, or until almost when pressed in the center. Immediately remove the pan from the oven. Reduce the oven temperature to 325 degrees F.
Sprinkle first the nuts, then the marshmallows, then the chocolate minimorsels evenly over the brownie. Bake for 8 to 9 minutes more, or until marshmallows are just lightly tinged with brown and a toothpick inserted in the center comes out clean except for the bottom ¼ inch, which should still look moist; be careful not to overbake. Transfer the pan to a wire rack and let stand until the brownie is completely cooled. Refrigerate until well chilled.
Using the overhanging foil as handles, transfer the brownie to a cutting board. Carefully peel off and discard the foil. Using a large, sharp knife, cut into 16 squares; wipe the knife clean between cuts.
In an airtight container for up to 4 days or freeze for up to 1 month. If freezing, leave the brownie slab whole, then cut into squares when partially thawed.
---
Source: The All American Cookie Book by Nancy Baggett [Houghton Mifflin Harcourt, 2001]

Photo Information: Canon T2i, EFS 60mm Macro Lens, F/4 for1/30th second at ISO‑1600