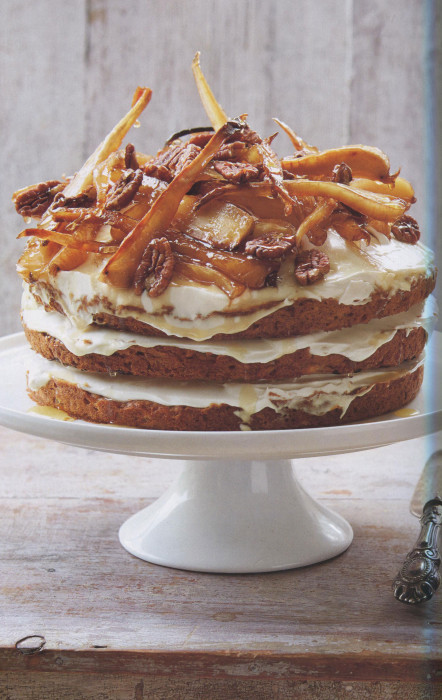 Ah, fall. Time for those hearty dishes that you could not imagine on a summer night. Roasts, simmering veggies. Potatoes and carrots and parsnips. Oh, you've never eaten one have you?  I can remember walking through the grocery store with my mother and pointing to a parsnip, "What's that?" She merely shuddered and walked on. Middle class folks in Oregon did NOT eat parsnips.
And now, Oregon is decades away and eat parsnips. Roasted with potatoes and onions. Mashed. And of course in dessert.
Yes, parsnips for dessert.
I'm fine. Really. No need to adjust my meds. Taste buds are fine. I'm looking forward to spring. But in the lingering days of winter, there is the possibility here to do wonderful things with interesting foods.
Have you ever in your life eaten a parsnip? In a soup? As part of a super-duper mashed potato mélange? Cooked root vegetables are sweet. That's why we spend the fall with baked carrot dishes each week. And here, parsnips are integral to this wonderful cake.
The recipe comes from Big Flavors from a Small Kitchen. Author Chris Honor was born in Australia and now has a small restaurant in North London. Along the way he has cooked in Asia and the Middle East. He loves his boutique English establishment where he shops in the local markets each day, using the proverbial "fresh and local."
British cookbooks seem to be written by people sitting in the middle of an English garden. Vegetables, fruits, herbs and flowers dance across each page. This recipe is the perfect example. The picture, from the book, has to just tingle and linger in your mind.
You are going to make this dish someday. Why not now. Imagine the conversation around the watercooler on Monday. What did you do this weekend? I made a cake with parsnips. Well, you'll certainly command some attention. Maybe you should bring in a slice or two so people can see that your meds, too, are just fine.
---
Cake of Parsnip, Apple, Pecan and Maple Syrup
Yield: serves 8 to 10
Ingredients:
For the cake:
1 ½ sticks butter, plus extra for greasing
1 ⅔ cups turbinado sugar
½ cup maple syrup
4 large eggs
2 ¾ cups all-purpose flour
2 tablespoons baking powder
1 tablespoon mixed spice
10 ½ ounces parsnips, peeled and grated
1 medium apple, peeled, cored, and grated
¾ cup pecans, coarsely chopped
Zest and juice of 1 small orange
For the topping:
½ cup superfine sugar
1 cup water
3 parsnips, peeled and quartered
Handful of whole pecans
1 ⅔ cup mascarpone cheese
¼ to ⅓ cup maple syrup
Preparation:
Preheat the oven to 325°F. Grease three 8-inch round cake pans and line the bottoms with nonstick parchment paper.
Melt the butter, turbinado sugar, and maple syrup in a large pan over very low heat, then let cool slightly. Whisk the eggs into this mixture, then stir in the flour, baking powder, and mixed spice, followed by the grated parsnips and apple, chopped pecans, and orange zest and juice.
Divide among the prepared pans and bake for 25 to 30 minutes, or until the tops spring back when pressed lightly.
Cool the cakes slightly in the pans for 10 minutes before turning them out onto wire racks to cool completely.
Meanwhile, raise the oven temperature to 400°F and line a baking pan with nonstick parchment paper.
For the topping, put the sugar and the water into a large pan and heat until the sugar dissolves. Add the quartered parsnips and cook for about 5 to 7 minutes, or just enough to soften them. Lift the parsnips out, reserving the sugar syrup, and transfer them to the prepared baking pan. Bake until they turn an even golden brown. Remove from the oven and let cool.
Just before serving, mix together the mascarpone and maple syrup. Spread one-third of this mixture onto one of the cakes and place another cake on top. Repeat to make another layer, then spread the remaining mascarpone onto the top layer. Pile the candied parsnips on top and scatter with the whole pecans. Drizzle with some of the remaining sugar syrup and serve.
---
Source: Big Flavors from a Small Kitchen by Chris Honor [Hachette, 2015]