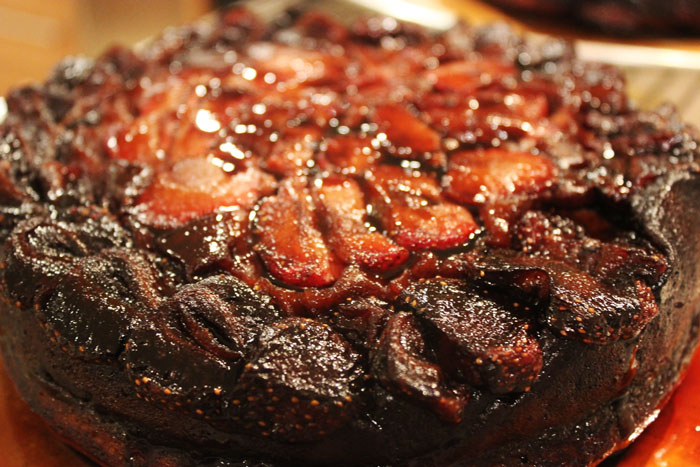 The website Food52 is a resource that you simply must visit. It's a site beautiful both for its recipes and its visualizations. Suzen made this cake, and began boasting to me. As the family dessert maven, I took no offense. But I wondered if she had changed medications, or even doctors.
After all, my wife is not a dessert person. But here she was: "You won't believe… Everyone tasted it and loved it… Wait until…"
She'd made this cake in the city while I was upstate. I had fashioned a rather good cookie, but she had outdone me with this cake. She really had. Look at that picture. You know how the word "mahogany" connotes richness and wonder? Well, that mahogany cake is a wonder, both visually and to the palate.
I cannot outdo the description of the cake's author, indieculinary:
"Balsamic vinegar and strawberries are a classic pairing. Balsamic vinegar and olive oil are a classic vinaigrette. Surely, I thought to myself, all three must come to sweet-and-sour harmony in a cake. This recipe came together in my head as I thought about the theme of this contest. I knew I wanted to take the vinegar idea in a sweet direction. Vinegar caramels came to mind, and then I thought of a tartly sweet caramel sauce.
"That made me think of upside-down cakes, and all at once, the recipe came together. I decided to build on the usual technique for making an attractive upside-down cake: spiral your fruit or toppings at the bottom of the pan, pour over a caramel-based glaze prepped on the stovetop, pour your batter over that, bake, cool, and invert to oohs and ahhs. In order to make sure the flavor of the vinegar was heightened and emphasized, I wanted to include it in both the glaze and the cake. Olive oil cake seemed an inspired pairing with the balsamic vinegar, and so I adapted an olive oil cake recipe I'd worked on previously, swapping in balsamic vinegar for the rosewater I'd previously featured. To keep the aesthetic of the cake spring-like, as a match for the season and the strawberries, I used golden balsamic vinegar instead of its darker, thicker sibling. This cake comes together quickly. Dense and moist, with an intriguing tartness to offset the jam-like quality of the strawberries, it is rich with eggs and not too sweet. Oh go on, make it for breakfast."
I have never met indieculinary but anyone who suggests cake for breakfast is a star in my book. This cake will astonish you and put a smile on your face. For the rest of the day. If you make it for breakfast.
Lunch and dinner are okay, too!
---
Strawberry Balsamic and Olive Oil Upside Down Cake

Yield: 8 to 10 servings

Ingredients:

For the balsamic vinegar glaze and strawberry spiral:

1 pound fresh strawberries
1/2 cup brown sugar
1/2 cup golden balsamic vinegar
2 tablespoons olive oil
1 tablespoon honey
For the cake:

1 cup sugar
¼ cup golden balsamic vinegar
½ cup buttermilk
3 eggs
1 ¾ cup cake flour
1 ½ teaspoon baking powder
½ teaspoon salt
⅔ cups olive oil
Preparation:

Preheat the oven to 350 degrees F.
Spray an 8-inch cake pan with olive oil spray. Line the bottom with a circle of parchment paper (this is an important step — it will help your cake release from the pan after baking without disturbing the arrangement of your strawberries). Spray again with olive oil.
Remove stems and slice strawberries vertically. Arrange them in a spiral, starting with the outside layer and overlapping slightly at the bottom of the cake pan.
Combine the brown sugar, golden balsamic vinegar, olive oil, and honey in a stainless steel pan and whisk to emulsify. Bring to a boil and stir frequently until thickened enough that it drips more slowly from your stirring spoon. Remove from heat and pour carefully over the arranged strawberries.
To make the cake batter, start by whisking together in one bowl the sugar, buttermilk, vinegar, and eggs.
In another bowl, whisk together your dry ingredients: the flour, baking powder, and salt.
Add your wet ingredients to your dry ingredients in three stages, stirring to incorporate each time.
Add your olive oil in 3 stages, folding and stirring to incorporate each time.
Slowly and carefully pour the batter over the strawberries. Don't pour too rapidly, or you'll displace your carefully-arranged spiral.
Bake for approximately an hour. The cake is done when the top is golden and it has pulled away slightly from the edges of the pan.
Cool for 10 minutes, and then run a knife between the cake and the pan to make sure it is completely loosened.
Put a flat plate atop the pan, and then, using potholders to protect your hands, quickly flip the cake while holding the plate tightly to the pan.
Slowly lift the pan, and the cake will be sitting, covered in parchment paper, on the plate. Peel off the parchment paper and be greeted by a beautiful spiral of sweet-tart fruit atop a golden cake.
---
Source: indieculinary at Food52c

Photo Credits: Canon T2i, 18-55mm lens at F/4.5, 1/50 second at ISO 3200 [no flash]