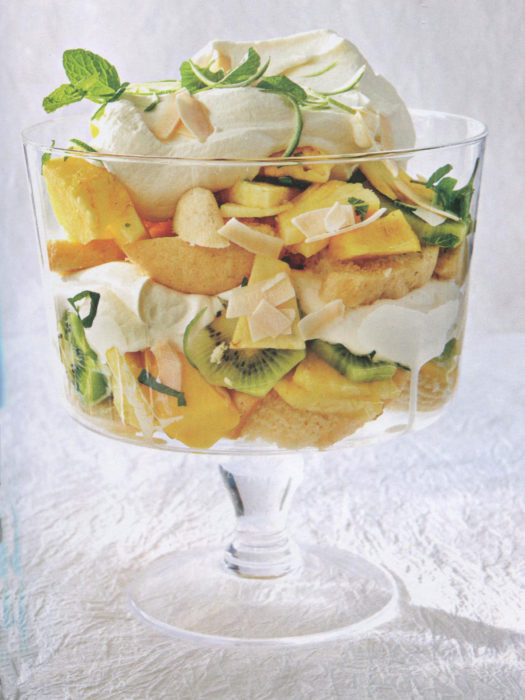 Trifles are considered a wonderful summer dessert. It is not summer. Who cares? Why not pretend we are oh so close to warm or even hot days.
This recipe comes from Spinkles, the wonderful book from the Sprinkles Cupcake stores. The book has those cupcakes — and the great Sprinkles frostings — and then much more. This recipe suggests that you do not frost some cupcakes. In fact, you even cut them up. But you happily surround those fragments with whipped cream and fruit.
You can, of course, substitute the fruit mixture you employ. Here, the mix is tropical: mango, pineapple and kiwi. Keep those and add berries, or consider adding peaches, nectarines, whatever you can find. I think apples and pears are not destined for a trifle, unless you have softened them for a few hours using liquid [booze] or sugar [with or without cinnamon or nutmeg or allspice].
A trifle is always stunning to observe as it comes to the table. It's even better bite by bite.
---
Tropical Cupcake Trifle
Yield: serves 8
Ingredients:
2 ½ cups heavy cream
5 tablespoons confectioners
3 ½ tablespoons dark rum
1 teaspoon pure vanilla extract
1 ½ cups diced ripe mango
1 ½ cup dice ripe pineapple
1 cup diced rip kiwi
3 tablespoons finely shredded fresh mint
1 teaspoon finely grated lime zest
12 vanilla or coconut cupcake
½ cup toasted coconut chips
Preparation:
In the bowl of a stand mixer fitted with the whisk attachment, whip the cream, confectioners' sugar, 1 tablespoon of the rum (if using), and the vanilla until soft peaks form, 2 minutes.
In a separate bowl, fold together the mango, pineapple, kiwi, remaining 2 ½ tablespoons rum (if using), 2 tablespoons of the mint, and the lime zest.
Layer the ingredients in either a flat-bottomed parfait or glass bowl, using about half of the cake, cream, and fruit for each layer.
Cover and chill for at least 4 hours and up to 24 hours. Remove from the refrigerator and top with the coconut chips and remaining 1 tablespoon mint before serving.
---
Source: The Sprinkles Baking Book by Candace Nelson [Grand Central Life and Style, 2016]