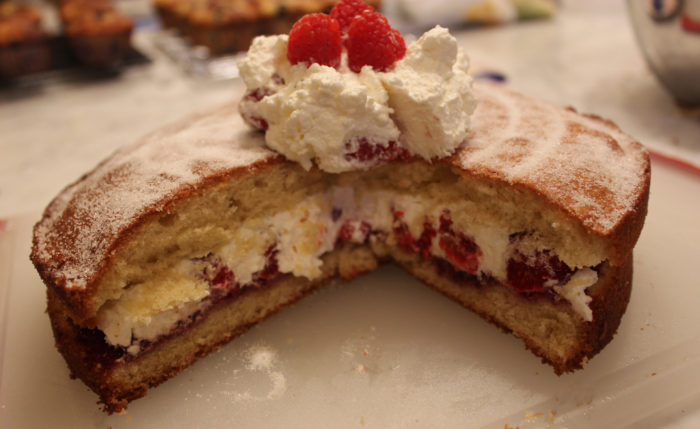 This cake appears around the world, from London to Sydney. It is the perfect "Afternoon Tea" cake. The cake itself is fairly dense and is not frosted. Instead, the layers are separated by whipped cream, berry jam, and fresh berries.
If fresh berries are not available, do not try to use defrosted frozen berries. There is just too much liquid there and your cake will become mushy. Instead, just double down on the jab.
Raspberry is the flavor of choice here, but strawberries or blueberries work quite well too.
Yes, the cake becomes a little gooey with the jam and whipped cream. The ideal afternoon decadence.
---
Victoria Sponge Cake
Yield: serves 8
Ingredients:
3 sticks unsalted butter, softened, plus extra for pan greasing
1 ⅔ cups superfine sugar, plus extra for sprinkling
1 teaspoon vanilla extract
6 eggs
2 ⅔ cup all-purpose flour
2 ¼ teaspoons baking powder
½ cup raspberry preserves
2 cups fresh raspberries, if available
1 ½ cups heavy cream
Preparation:
Preheat the oven to 325 degrees F. Line two 7-inch round cake pans with parchment paper.
In a large mixing bowl, beat together the soft butter and the sugar until pale and fluffy. Add the vanilla extract and the eggs one at a time, alternating them with 1 tablespoon of flour and beating well after each addition.
When all the eggs have been added, add the remaining flour and the baking powder and mix well.
Divided the batter between the 2 pans and bake in the oven for about 40 minutes, or until a toothpick inserted in the center of the cake comes out clean.
Cool the cakes for at least 10 minutes in the pans before turning out onto a wire rack to cool completely.
Just before serving, place one cake on a serving plate and spread the raspberry preserves on top. Whip the cram to soft peaks — just still enough to start to hold a shape — and layer that over the preserves, reserving a good dollop for the top of the cake. Sprinkle the raspberries over the cream [saving 2 or 3 for decoration ]. Finish by toping the second layer cake. Sprinkle with superfine sugar and put the last dollop of cream on top of the cake. Fishing the 2 or 3 reserved raspberries.
---
 Source: Leon Happy Baking by Claire Ptak and Henry Dimbleby [Conran, 2019]
 Photo Information: Canon T2i, EFS 60mm Macro Lens, F/3.5 for 1/30th second at ISO‑400