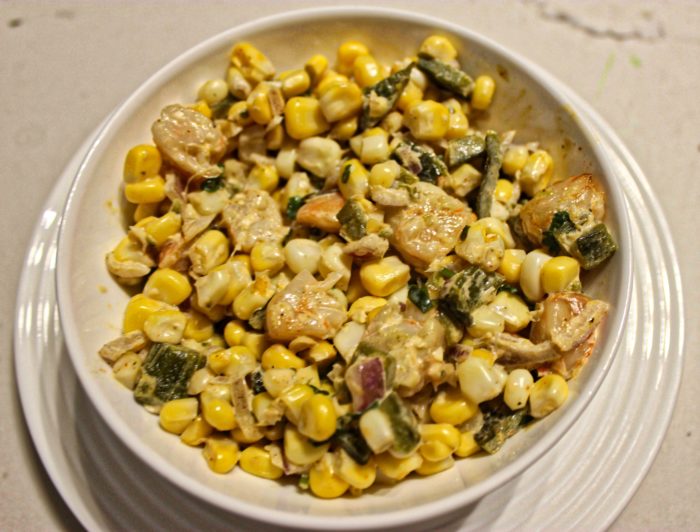 This surprisingly happy dish from What Can I Bring? is certain to brighten your table. It can be a dip or a side dish. You may find people wanting to eat it both ways. It's that impressive.
Author Elizabeth Heiskell does implore you to make this only with summer corn at its height. Well, we were able to find some corn still on the cob for Thanksgiving and you may be able to still too. If not, please put this recipe in your "to do" list for next summer. Or, and I hope Elizabeth does not hate me here, use frozen corn. This dish is too delicious to wait months to try.
I've posted the recipe here straight from the book. It tasted wonderful with a gentle mildness. That night, we wanted something to rattle our mouth. So, we doubled the onion, cilantro, and other seasonings. It zinged. I suggest you make the recipe as shown here, taste test and then make any adjustments you feel are necessary.
One great surprise: there is no salt or pepper in this recipe. With sweet summer corn, you may just be fine. Or, you may wish to do some sprinkling.
This recipe has one intriguing aspect: how you cook the corn. I've done corn in pot of boiling water, on the grill, or in the microwave. Here, you take the corn — unshucked corn — and bake it in the oven for about 25 minutes. When the kernels are tender, you pull the corn, cool it, then shuck the corn and cut off the staff. What could be easier?
For the corn we used our 36" Jenn-Air® Pro-Style® Dual-Fuel Range with MultiMode® Convection. The oven has the perfect volume for dealing with 8 ears of corn. The temperature control is excellent and, with just one rotation of the corn after 12 minutes, our ears were perfectly cooked in those 25 minutes. Jenn-Air has engineered the oven with heavy-duty walls, floor and ceiling to ensure there are no hot or cold spots. We know: we've checked with our infrared thermometer!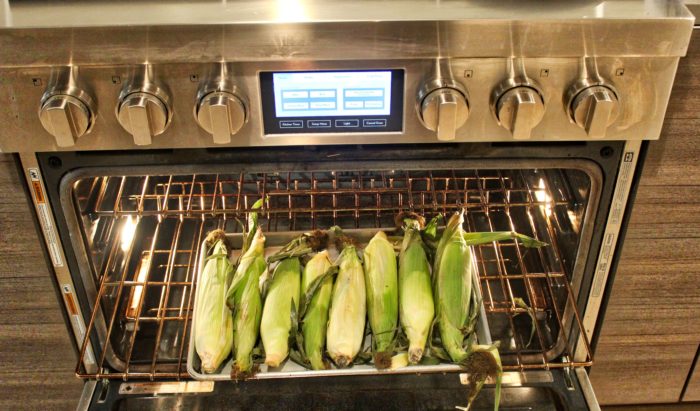 ---
Shrimp and Corn Dip
Yield: serves 16 as an app, 6 as a side
Ingredients:
8 ears fresh sweet corn with husks
1 pound medium-size raw shrimp, peeled and deveined
1 cup mayonnaise (such as Hellmann's)
¾ cup chopped red onion (from 1 onion)
¼ cup chopped fresh cilantro
2 tablespoons fresh lime juice (from 1 lime)
1 teaspoon ground cumin
1 teaspoon Creole seasoning (such as Tony Chachere's)
4 dashes of hot sauce (such as Tabasco)
Preparation:
Preheat the oven to 350°F. Trim the silk tassel from the ends of the corn, and remove any loose leaves, but do not shuck. Place the corn directly on the oven rack. Bake until the kernels are tender, about 25 minutes. Cool completely, about 20 minutes. Shuck corn, and snap off base. Remove the kernels from the cobs with a knife; discard cobs.
Cook the shrimp in boiling water in a medium saucepan just until pink, about 3 minutes. Drain, cool, and chop into 1 2 3/6-inch pieces.
Stir together the corn kernels, shrimp, mayonnaise, onion, cilantro, lime juice, cumin, Creole seasoning, and hot sauce in a medium bowl. Serve immediately, or cover and chill before serving. Store in an airtight container in the refrigerator up to 3 days.
---
Source: What Can I Bring? by Elizabeth Heiskell [Southern Living, 2017]
Photo Information [Top]: Canon T2i, EFS 60mm Macro Lens, F/3.5 for 1/30th second at ISO‑125