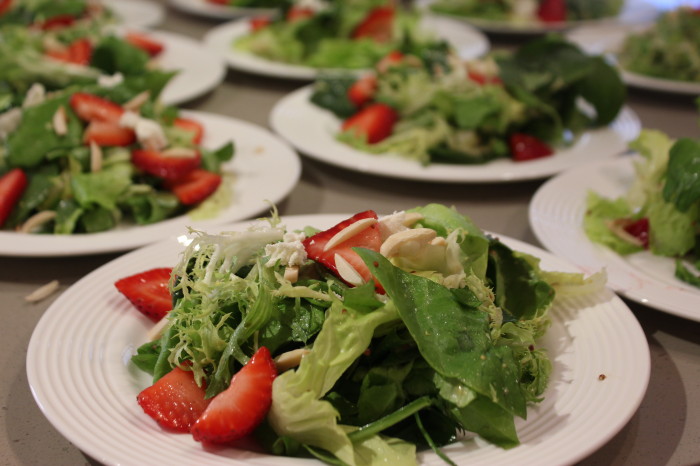 Suzen likes to help people out. So do I, although for some unfair reason I seem to be viewed as less gracious than she is. She smiles more.
Take today. We helped a little girl and we helped Chef Carrie Eagle.
At 8AM, I went out my front door, intending to go left, take another left, go a block at get my morning coffee. And Suzen's. See? I do help people.
Well, I'm standing on the front step and a man goes running by. I know this man. It's my dentist. And he's yelling, "Don't run." And then he runs faster himself.
I looked left and there on the edge of the parking lot that sits next to us — how many of you are lucky enough to have a 24-hour parking lot complete with elevators for added storage — right there on the sidewalk was this little girl sitting down with a car's tire on her. She was banging away on the side of the car. "Get off, get off."
She'd run up from the right. He'd been looking left. She went down. He drove over her. He thought he had hit a back pack so he backed up. Now she's been crunched twice.
Her father, my dentist, got to her first. I was second. We pulled her back from the car, checked her out. I took her to my apartment while her father and the driver had a discussion. Upstairs Suzen and I took care of a frightened and scraped up 13-year old. First a fire truck came. Then the police. Then EMS. The EMS guys chewed me out for moving her, which in retrospect was kinda dumb but I did not like the thought of this kid lying on the sidewalk. And we did confirm that she did not seem to have a broken leg and I did half carry her into our elevator.
While our front room was filled with firemen and EMS guys, the bell rang and up came Chef Carrie Eagle from Dunton Hot Springs resort. Carrie is a seriously wonderful chef and her PR firm had arranged for her to prepare lunch for 30 international food writers.
This is where it gets a bit tense. When Carrie arrived from Colorado two days ago, she went to the site where she was to do the luncheon. The nice place that she'd given a deposit to. The place was padlocked. A Marshall's Note of Repossession was posted on the door. No lunch there.
Carrie's PR firm got on the web. They found us. Carrie came, Carrie cooked, the writers were very happy, and we were delighted to meet Carrie. And enjoy her food. And the wine: she was teamed with Sutcliffe Vineyards to pair wines with each of her dishes. Here in fact is her menu and the pairings:
Arrival Appetizers
Prosciutto Wrapped Asparagus, Tarragon Hollandaise
Ahi Tuna Cucumber Canapé, Chipotle Lime Aioli
2012 Rose
Course One
Spring Pea Soup, Citrus Crème Fraîche, Micro Greens
2011 Riesling
Course Two
Strawberry Bibb Salad, Toasted Almonds, Herbed Goat Cheese,
Whole Grain Mustard Vinaigrette
2011 Cinsaut
Course Three
Pan Seared Black Cod, Crimson Lentils,
Zucchini, Squash, Baby Spinach, Beurre Blanc
2011 Chardonnay Signature
Course Four
Mountain Berry Crisp with Vanilla Bean Whipped Cream
2012 Nectar, Sweet Riesling
Take a gander on the web at Dunton Hot Springs and Sutcliffe Vineyards. Dunton was an old mining town, one of those ghostly about-to-be abandoned places. But the folks there love the land, the altitude [at 9000 feet it takes 8.5 minutes to do a soft boiled egg] and the opportunity to draw in tourists. It's a charming place and, thanks to Carrie, you could not eat better. There's no menu. You eat what she cooks. She cooks what is the best she can get.
That's her Strawberry Bibb Salad pictured above. Do try to duplicate it. Do NOT skimp on the goat cheese. You want it rich, creamy, and just a tad dry.
So, that was today for Suzen and Brian. We'll see what tomorrow brings.
Oh, if you were going to use a certain kitchen space in mid-town and it's not available for you, we are. We just love emergencies.