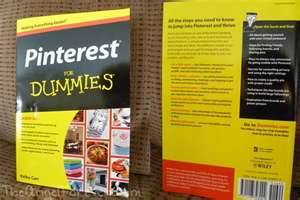 Like photos? Photos of food? Great photos of food and matching recipes and tables elegantly set? Those answers are easy.
"Easy" is a four-letter word. And if something that is supposed to be easy turns out to very not-easy, then I can feel like a dummy.
The website Pinterest is a phenomenon, a visual challenge to Facebook that has over 10 million new users each month. Pinterest is said to be "easy" to use. I think it's a generational thing. For those few people younger than I, Pinterest may be easy. But for me, I felt like a dummy. I am a dummy.
Luckily, I have a copy of Pinterest for Dummies, one of those Dummie books that can make you feel really, really smart. Whether you are new to Pinterest or deftly experienced, Pinterest for Dummies offers help, insight, and inspiration.
This book makes few assumptions about you, but gives you many options to learn and expand your capabilities. Author Kelby Carr has written the book so you can read it from start to finish — perfect for beginners. Or you can pick and choose chapters — ideal for someone who knows the basics but needs to expand.
Pinterest for Dummies begins with getting you set up and running. Right there is where life is NOT easy. Getting linked to Facebook and LinkedIn, and letting folks reading your blog pin your blog content, well, those tasks are not immediately obvious. Pinterest for Dummies gracefully guides you through all the steps. The fact is, Pinterest is very new. A year or two from now, Pinterest will have a different interface, perhaps some wizards, to make all these steps instantaneous or much simpler.
But now, to understand the power of Pinterest to expand you span on the web, this book is the one to get you up and running. Not just walking, but running.
Pinterest is of great interest to foodies. It's the place to see wonderful food, gather recipes, see photos of place settings and kitchen gear. It can be inspirational. To get that bounce, you need some deftness. Pinterest for Dummies will give you just the double dose of help you need.
Personally, I'm a new Pinterest user and I use Pinterest for Dummies every day. Absolutely necessary.