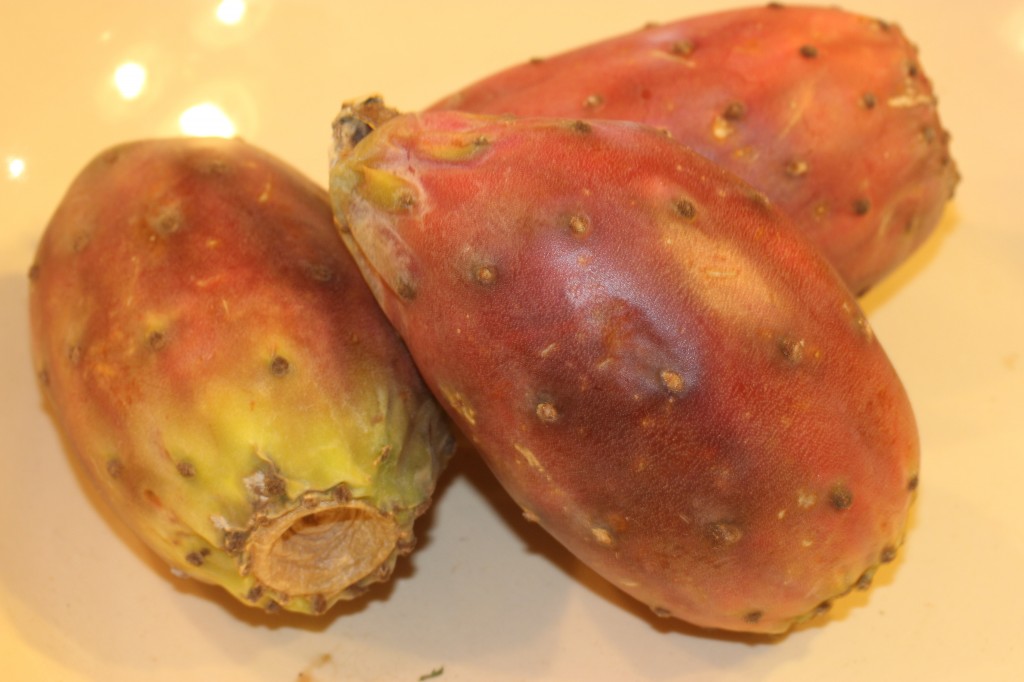 This will be an odd post for me, for it is about failure. Yes, a kitchen bummer.
It's cactus pear or prickly pear season and I love that fruit and the things you can do it with it. Like a prickly pear margarita. [The recipe for that will come later this week.]
Thing is, many recipes call for prickly pear syrup and I have some, a commercial product, in my pantry. But I wanted to make my own. I googled and I found, from a prominent food site, a recipe that struck me as odd. You food process prickly pear pieces — try saying that quickly five times. Then put the sieved liquid in a pot and simmer for 20 minutes along with —  here's the twist — a vanilla bean, cinnamon stick, and some mint.
I was hoping for an exciting, flavor filled syrup. I got cinnamon syrup with no hint of prickly pear.
I will pursue the syrup later this week.
Why am I telling you this? For two reasons. One, trust your instincts. If it sounds weird, it just may be weird.
Second, not everything you try in the kitchen is going to work. It may be you, it may be the recipe, it may be the ingredients. Some years ago, Suzen was lamenting about how she just HATES it when a recipe fails. She was lamenting to famed cookbook author and baker Flo Braker.
Flo looked lovingly at Suzen, smiled and said, "Get over it." So I will. On to a more sensible recipe.
Oh, looking for last minute presents for cookbooks. Look up Flo Braker and get anything you can from her. She is an amazing author. You can do her recipes and know that you'll have success.