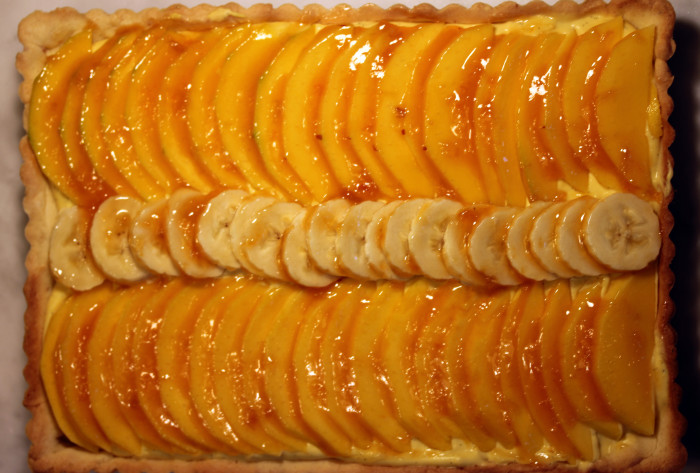 The core of many desserts is pastry cream. It's that "elegant goo" that makes you begin to think about having seconds, before your wife stares you down.
I did this comparison a few years of "pastry cream" and I discovered that it comes in many different forms. For your spring and summer desserts, you just may want to experiment a little:
---
t looks like fruit – mango and banana – but what gives this tart its capacity to please are those yellow traces beneath the fruit. Pastry cream. A simple concoction fit for the gods. Or you and me.
If you were a mathematician, a statistician actually, then your life would be based on comparing things. How are they different? Which is the best? Is there a best?
If you were a mathematician, a statistician actually, then your life would be based on comparing things. How are they different? Which is the best? Is there a best?
You would be surprised at what can be compared. For example, what could be a more basic component of a great dessert than pastry cream? Ladled into a pastry shell, adorned with fruit or chocolate, pastry cream is that basic building block we all depend on.
Just how basic? I've compared pastry cream recipes from three outstanding books:
Pastry by Michel Roux
Southern Italian Desserts by Rosetta Costantino
Patisserie: Mastering the Fundamentals of French Pastry by Christophe Felder
Pastry by Michel Roux is Suzen's standby pastry book. We've made many of the recipes, love the crust options and indulge now and then on its great pastry cream. It's Paris.
Southern Italian Desserts is a new, meticulously researched book that features the authentic styles of Southern Italy. These are recipes honed by endless generations of home cooks.
And Patisserie is a most beautiful and astonishing comprehensive treasure chest of French pastry arts. The book is illustrated with 3200 color photos for step by step assistance in each of the recipes in this ultimate encyclopedia.
In comparing the three recipes, I expected to find minor shifts in ingredients or their proportions. And modest suggested alternatives for techniques. I mean, its pastry cream. It can't be that different.
Oh, it can. Here is a comparison of the ingredients for around 2 cups of pastry cream:
| | | | |
| --- | --- | --- | --- |
| Ingredient | Pastry | Southern | Patisserie |
| Egg yolks | 6 | 3 | 6 |
| Sugar | ½ cup + 2 tablespoons | ½ cup + 1 tablespoon | ⅔ cup |
| Flour | ¼ cup | | |
| Milk | 2 cups | | 2 cups |
| Half‑and‑half | | 1 ½ cups | |
| Butter | | | 3 tablespoons |
| Vanilla bean | 1 | | 1 |
| Lemon peel | | 1 small lemon | |
| Cornstarch | | 3 tablespoons | 3 tablespoons |
This comparison demonstrates that there is "no simple thing." The contrasts are major. For example, Pastry and Patisserie use the same amount of eggs — and twice those of Southern but one uses flour and the other cornstarch. Perhaps you would not notice the flour-versus-cornstarch difference in your mouth but there are many, I assure you, who would prefer one to another.
Which is best? Oh, don't even think of going there. Each of these recipes stands on its own, including its own set of ingredients. All three are really, totally addictive. The real question is which do you prefer. Is your flavoring preference for vanilla or lemon? Does milk create the best texture for you, or milk plus butter, or half‑and‑half? Your preference will be determined by your food history, literally what your mother made. And by the mouthfeel you desire, the way the cream reacts as you bite, and of course how the pastry cream mates with other flavors in your dish. That lemon flavor may be ideal for a berry tart, but vanilla may be better for chocolate.
The next time your recipe calls for pastry cream, take a moment, pause, and maybe do a little research. Or, and this is better, make two pies. With a different pastry cream in each one. Let your spouse taste test, evaluate, and marvel at your skills.
At least that's what I wish my wife Suzen would do.