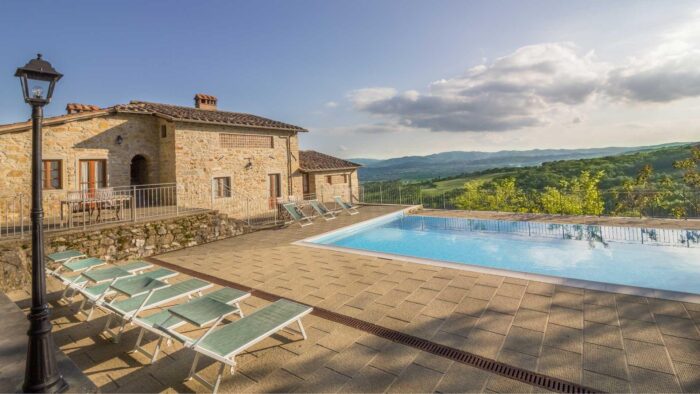 Few things are guaranteed in life, but Suzi and I know of one: visit Tuscany and the experience will last for the rest of your life. It is simply the most beautiful place on earth. Intense green trees, rolling yellow fields and that Tuscan blue sky that is perfect.
If you add food and wine to that physical beauty, then you will surely have exceptional memories. For 15 years, the team at Rustico Cooking in New York City — Micol and Dino — have offered culinary classes in Manhattan and food tours of Italy. A favorite tour is their Tuscan one booking this June 9-15.
Here at Cooking by the Book, we heartily recommend this Rustico Tuscan experience. We are including the full text of their tour description below. Here's the link to their website's tour description:
https://www.rusticocooking.com/tuscanyandbeyond.htm
You will have a week richly packed with food, wine, adventure, and that Tuscan villa with its pool.
Micol and Dino are 4-star hosts and guides. If you have never been to Tuscany, there is no better way to begin. If you have been to Tuscany, and long to return, here is your best possible Italian journey. One day, one meal, one glass at a time.
If you do contact Rustico about this tour, please mention your contact point here. Just add a note mentioning CBTB and Micol will extend some extra warmth and a tour discount, too!
Here is a detailed description from Micol of the tour. It is, of course, mouthwatering!
---
TUSCANY & BEYOND CULINARY TOUR June 9-15, 2020
Hosted by Rustico Cooking  
This unique culinary vacation offers you a rare chance to live like a Tuscan for a week. You'll stay on the sprawling grounds of a fifteenth-century stone villa with a splendid view of Tuscany's rolling hills. You'll spend mornings in the villa's kitchen, cooking traditional Italian dishes to be enjoyed in the rustic dining room or on the vast terrace overlooking olive groves and cypress trees below before heading out for an afternoon of sightseeing and culinary discovery.
Thanks to the villa's proximity to 3 other regions of Italy, you'll also visit Umbria, the Marches, and Emilia-Romagna, savoring four distinct culinary traditions during your stay. Click here for a video and more details https://www.rusticocooking.com/tuscanyandbeyond.htm
Cooking Classes:
Italian food is extremely varied and deeply regional. From making fresh pasta by hand to kneading focaccia dough, roasting and braising meats, poaching fish, whipping up amazing desserts, and more, each class at the villa will focus on key Italian culinary techniques and will culminate in a full Italian meal. By week's end, you'll have perfected many essential culinary skills and learned dozens of Italian dishes.
Your hosts and cooking teachers are Micol Negrin and Dino De Angelis, a husband-and-wife team who opened Rustico Cooking, an Italian cooking school in Manhattan, in 2002.
Restaurant Dinners:
We have selected restaurants in nearby medieval towns where you can enjoy a taste of the local cuisine. Some restaurants are elegant, others cozy, but all will provide you with a memorable gastronomic experience. The only prerequisite is to bring your appetite, because the meals will be generous and wine is always included!
Pricing:
$3,950 per person based on double occupancy
SPECIAL OFFER: Save $350 per person if you mention Cooking by the Book when booking!
A very limited number of single-occupancy supplements are available. NOTE: Since many of the rooms have two separate beds, friends traveling together can comfortably share a room and book as double occupancy
Our philosophy is that once you arrive at the estate, everything is included: every meal with wine, transportation to and from the various sites, tastings, and all activities we'll be enjoying as a group. We'll be happy to help you figure out your pre- and post-tour travel plans and set up a car service if needed to and from the hotel, airport, or train station of your choice.
Price includes:
6 nights stay at the villa
All breakfasts, all lunches, all dinners
Room with its own en-suite bathroom
5 hands-on cooking classes
Wine with all lunches and dinners
Wine tasting
Olive oil tasting and visit of olive mill
All organized group activities
Transportation by private bus within the tour
Recipes
Rustico Cooking apron
Access to the villa's private pool
For more on Rustico Cooking's full calendar of culinary tours, including tours to Puglia & Basilicata, click here https://www.rusticocooking.com/cookingtours.htm
Call Micol and Dino at  (917) 602-1519 or email micol@rusticocooking.com for more information or to reserve your spot(s).