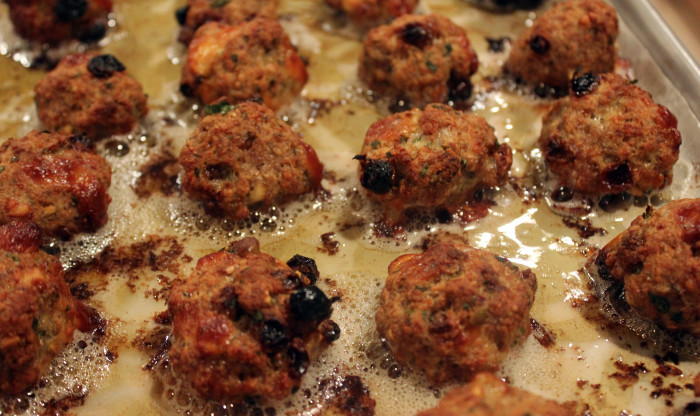 Want to start a debate among foodies? You don't have to go to politics or religion. For spirited conversation, you need to ask about where to find the best meatballs. Family recipes, especially Italian family recipes, are endowed with pride. And it is not unusual for someone to say their family's version is the best, easily the best. It's not a wise thing to challenge that claim, for it will be mightily defended. And with good reason. These recipes have been honed and perfected by woman and men who do display meatball passion.
In the end, it's both wise politics and excellent culinary sense to admit that there can be more than one best.
Famed butcher Pat La Frieda says in his book Meat that these are the best meatballs in the world. He eats them sizzling hot out of the pan. No sauce, no pasta. Just the meatballs. And the next day, you "slice and sandwich."
I showed this recipe to Suzen and she smiled, read it carefully, and announced, "I'm going to use pistachios." It was a small adjustment and I'm now convinced that Suzen's meatballs are the best in the world.
We did have leftovers and Suzen shared them with her Cooking by the Book staff the next day. People raved. Again, no sauce, no pasta. Just warm meatballs, which were proclaimed to be the best. We did, out of culinary honesty, mention Pat's name.
It's rare to come across a recipe that is both the best and perfect but this is surely it. If you crave a wonderful meatball treat, this is the one you should indulge.
---
Pork Meatballs with Toasted Pignoli and Golden Raisins

Yield: about 36 meatballs

Ingredients:

⅔ cup pine nuts
2 pounds chopped (ground) pork
1 ⅓ cups golden raisins
1 cup Italian-Style Breadcrumbs
6 ounces grated Pecorino Romano cheese (about 1 ¾ cups) or half pecorino, half Parmigiano- Reggiano cheese
3 ounces aged provolone cheese, cut into ¼-inch cubes
⅔ cup finely chopped fresh flat-leaf parsley leaves
3 large eggs, lightly beaten
4 cloves garlic, minced
2 teaspoons kosher salt
½ teaspoon freshly ground black
Preparation:

Preheat the oven to 350°F. Line a baking sheet with parchment paper or foil.
In a medium skillet, toast the pine nuts over medium heat, shaking the pan often, until golden brown all over, 4 to 5 minutes. Transfer the pine nuts to a plate so they don't continue cooking, and set them aside to cool to room temperature.
Put the pork in a large bowl. Add the pine nuts, raisins, breadcrumbs, pecorino, provolone, parsley, eggs, garlic, salt, and pepper. Gently work the ingredients together with your fingertips. Don't overwork the meat or press it together, or your meatballs will be tough and heavy. Roll the meat into 36 balls (about 2 ½ ounces each, a little bigger than golf balls).
Lay the meatballs in a single layer on a baking sheet and bake them until they are cooked through, about 20 minutes. Let the meatballs cool slightly before removing them from the pan.
Photo Information: Canon T2i, 18-55mm Macro Lens, f/4.5 at 1/50th second, ISO-2500