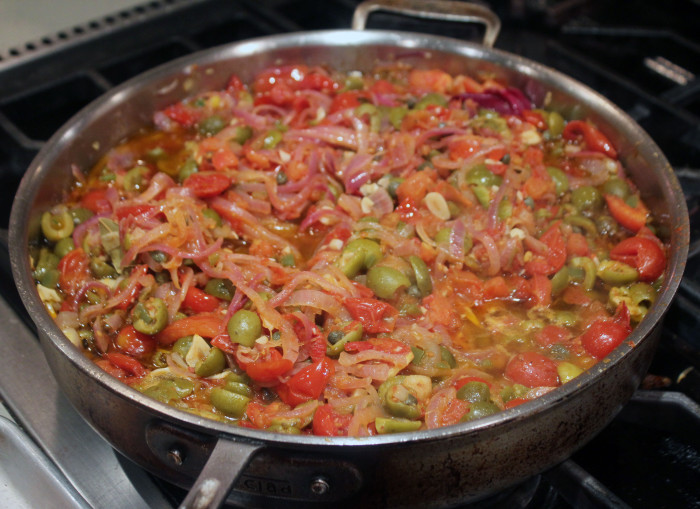 Here is salmon, we all know salmon, from a different perspective. Rick Bayless applies the flavors of Mexico in layer upon layer of texture and flavor. This Veracruz "sauce" can be served next to your grilled/pan-fried/barbequed/baked salmon. Or on top of it.
There are onion, garlic, herbs, spices, olives, capers and jalapenos here. Surely, you like one of those! Here you get to enjoy your favorite with others in this dense blend. I suppose it's more a veggie-ragu than sauce, for you have to spoon it, not pour it.
While this recipe is targeted for salmon, it would be wonderful with any fish, or with chicken, or even — I swear it's true — atop a well-grilled steak. This is not a modest sauce. It has intense flavor and real body. You bite into this sauce, so having some well-done protein is marriage that cannot fail.
If you love salmon, but maybe are just getting just a bid salmon-jaded, this will restore you full faith in salmon. And marriage.
---
Salmon Veracruz with Tomatoes, Capers, Olives and Herbs

Yield: serves 8

Ingredients:

1/3 cup olive oil
1 medium onion
4 large garlic cloves, peeled and finely chopped
6 medium-large ripe tomatoes, peeled [optional], cored and cut into 1/2-inch cubes
3-4 whole, dry bay leaves
1 ½ teaspoons dried oregano
3 tablespoon chopped flat-leaf parsley
1 cup pitted, roughly sliced green olives
¼ cup capers, drained and rinsed
Kosher salt
3 whole pickled jalapeno chiles
8 6-ounce salmon fillets
Additional salt and pepper
2 limes, quartered
Preparation:

In a medium pot over medium heat, add ¼ cup of the olive oil and sauté the onion until caramelized, about 5 minutes. Add the garlic and cook for 1 minute more. Increase the heat to medium-high, add the tomatoes, bay leaves, oregano, parsley and half of the olives, capers and chiles. Cook, stirring frequently until some of the liquid has evaporated, 5 to 10 minutes. Season with salt and removed from the heat.
In a large nonstick skillet over medium-high heat, add the remaining oil. Season the salmon with salt and pepper and pan-crisp the skin side down until golden, about 3 to 4 minutes. Flip the fillets and cook until the desired doneness, about 2 minute for medium. Serve with the sauce on the side or spooned on top. Give everyone a wedge of lime juice to add one more layer of zip.
Source: Rick Bayless

Photo Information: Canon T2i, EFS 60 mm Macro Lens, F/4.5 for 1/50th second at ISO‑1250