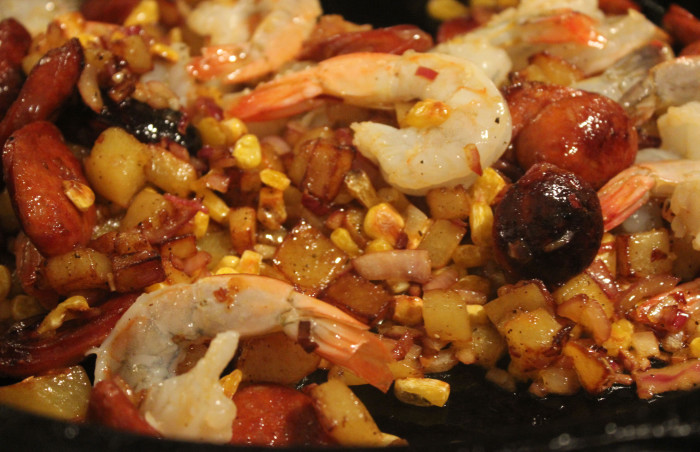 In the dazzling new book Big Bad Breakfast, author John Currence goes all out to exploit his Southern culinary heritage. Born in New Orleans with all its French influence, he went to college in Virginia and North Carolina, but often visited Charleston in the heart of South Carolina Low Country. This recipe combines Low Country ingredients with some New Orleans heat and will make your breakfast shine.
To be honest, Suzi and I made this for dinner. We were hungry. We did not want to wait until the next morning. And we had sausage and shrimp on hand.
You can do a lot of things with eggs. Suzi loves frittatas. I don't. Too much egg and all those veggies. I think frittatas are an Italian conspiracy to force healthy food into my intestinal track. If I have to eat healthy, can I at least have some protein, and maybe even some, but not a lot, of modestly unhealthy carbs?
We both love this dish. I bet I have less frittatas and more of these scramble dishes — and you can find more scramble ideas in John's book. You can see my book review here.
The idea of this dish is simple: make a soft foundation of scrambled eggs and add lots of stuff: corn, onion, garlic, sausage, shrimp, tomato, cheese, scallions, and even some potato hash. The appearance is overwhelming. It's a culinary United Nations with every color possible appearing. The taste? Shrimp and sausage and potato wonderful.
This is a perfect breakfast, but it is equally exceptional for lunch or dinner, too. And, this recipe is just the template you need for your own rounds of invention. Play with it, adding or subtracting ingredients and spices. You literally can't go wrong here. Except if you fail to make it. Please, don't be a failure in life. Try a scramble. Best with a beer or a Bloody Mary — yeah, there's a recipe for that too in Big Bad Breakfast. A good, spicy one.
---
Low Country Cast-Iron Skillet Scramble
Yield: serves 1 [scale up for as many people as you need]
Ingredients:
¼ cup fresh or frozen corn kernels
2 teaspoons olive oil
Salt and black pepper
¼ cup clarified butter or your preferred cooking fat
2 tablespoons chopped yellow onion
2 teaspoons minced garlic
½ cup diced andouille sausage
⅓ cup medium shrimp, peeled
¼ teaspoon plus a pinch of Old Bay seasoning
½ cup Potato Hash (recipe follows)
¼ cup diced tomato
2 eggs, well beaten
¼ cup grated cheddar cheese
3 tablespoons sliced green onion, green parts only
Preparation:
Preheat the broiler.
In a small ovenproof skillet, stir together the corn and olive oil and season with a pinch of salt and black pepper. Broil, stirring every 30 or 45 seconds, until the corn begins to brown lightly, 5 to 6 minutes. Remove from the oven and set aside. Do not turn off the broiler.
Warm the clarified butter in a 6-inch cast-iron pan over medium heat for 1 minute. Add the onion and garlic and sauté until the onion begins to turn transparent, about 1 minute. Add the andouille, shrimp, ¼ teaspoon Old Bay, and Potato Hash, season with salt and pepper, and sauté, stirring constantly, until the shrimp turn opaque, 2 to 3 minutes. Stir in the broiled corn and diced tomato and cook, stirring, until warmed through, about 30 seconds.
Add the eggs and slowly scramble with a silicone spatula, scraping up large curds from the bottom of the pan. Just as the eggs are almost set but still a tiny bit runny, after about 2 minutes, turn off the heat and sprinkle with the cheese. Slide the pan under the broiler and broil until the cheese melts, 10 to 15 seconds. Remove from the oven and sprinkle with the green onions and a pinch of Old Bay. Serve immediately in the cast-iron skillet.
---
Potato Hash
Yield: 2 cups
Ingredients:
2 cups diced baking potato, cut into ½ inch cubes
Salt and black pepper
2 tablespoons baking fat
¼ cup diced yellow onion
Preparation:
Set up an ice bath by adding ice and cold water to a large bowl. Place the potato in a medium saucepan with 2 cups of water and 2 tablespoons of salt. Bring to a boil over medium heat and cook until the potatoes can be easily pierced with a knife, 2 or 3 minutes. Drain the potatoes, then plunge into the ice bath for a minute or so to stop the cooking.
Warm the bacon fat in a nonstick sauté pan over medium heat for 1 minute. Add the onion and cook, stirring, until transparent, about 2 minutes. Add the potatoes, stirring to combine, and season immediately with salt and pepper. Continue to cook, slowly stirring, until lightly browned, 5 to 6 minutes. Serve
---
Source: Big Bad Breakfast by John Currence [Ten Speed Press, 2016]
Photo Information: Canon T2i, EFS 60mm Macro Lens, F/5 for 1/30th second at ISO‑3200