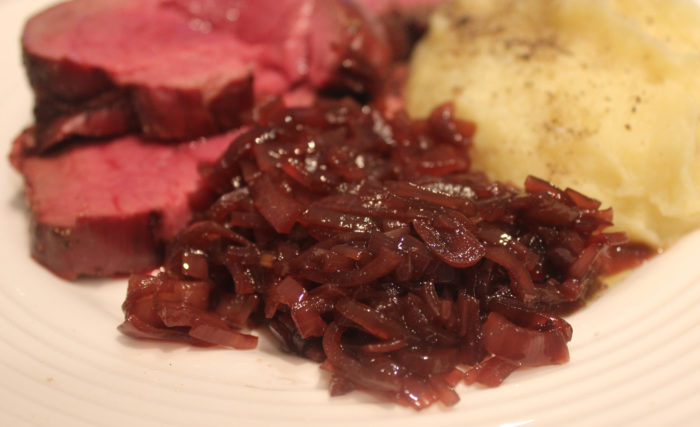 Shallots are planted in the fall and then arrive the next year as the sun warms the soil. We puts shallots into salads or added to protein dishes like chicken. Here's an option: marmalade. It's sweet, intense and has just a touch of warmth, if not heat.
You really will not use this marmalade on your breakfast toast or biscuit. Maybe on a dinner biscuit, but more likely, as shown here, as a side for protein.
You can make this dish is a flash and use it tonight, or store it away in your refrigerator and enjoy for weeks.
---
R

ed Wine-Shallot Marmalade
Yield: about 3 cups
Ingredients:
2 tablespoons blended oil (half olive oil and half vegetable oil)

2 pounds shallots, peeled and finely diced

1 cup dry red wine

1 cup port wine

2 tablespoons red wine vinegar

2 tablespoons balsamic vinegar

½ cup sugar
Preparation:
Heat the oil in a heavy-bottomed saucepan over medium heat. Add the shallots and saute for about 5 minutes, or just until soft. Add the red and port wines along with the red wine and balsamic vinegars. Stir in the sugar and bring to a boil. Lower the heat and simmer for about 20 minutes, or until the mixture is thick and syrupy, taking care that the sugar does not scorch. Remove from the heat and set aside to cool.
When cool, use as directed in the master recipe, serve as a condiment with meat or game, or cover and refrigerate for up to 1 month.
---
Source: The Shared Table by Don Pintabona [Random House 2005]