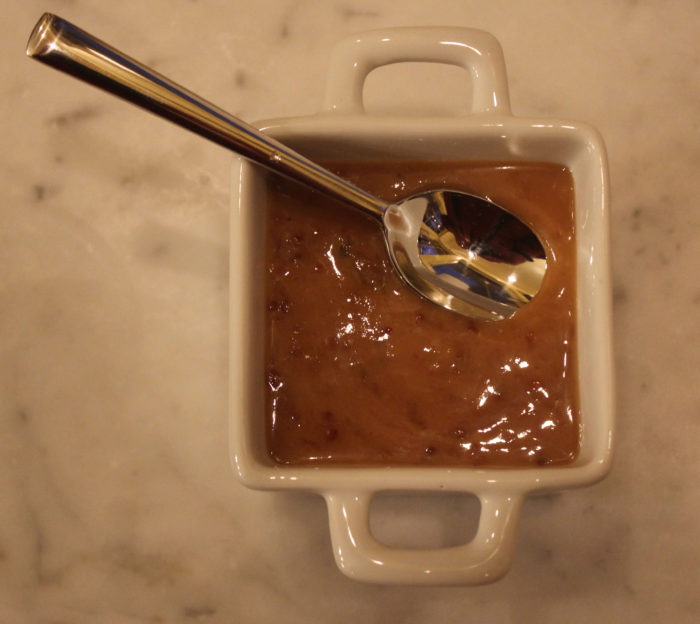 Do I follow the recipe or not? From the 1994 classic Burning Desires by W. Park Kerr, here is a rather different glaze for your barbecuing. How often do you cook with curry? I was reaching for the curry container when my hand passed over a jar of mango chutney. "Well, hell," I told myself, "curry and mango chutney are both Indian." I went mango. Next time, I swear, I go for curry.
This recipe is, according to Park, destined for shrimp or chicken or almost any cut of pork. Like ribs! You'll see this glaze on ribs in tomorrow's post.
Especially when you used the mango chutney, this glaze is very thick. That spoon cannot begin to sink in. I love a glaze with "body" and you'll see tomorrow that this glaze does not disappear when you cook with it. It's an addition, but a dominant one.
Ah, one other change. This recipe calls for ¼ cup of honey. I used ¼ cup, but of my honey doctored with chipotle and lemon zest. Quite an addition!
---
Curried Marmalade-Mustard Glaze
Yield: about 2 cups
Ingredients:
1 cup Dijon mustard
½ cup orange marmalade
½ cup hot pepper jelly [or that mango chutney]
¼ cup honey [or honey doctored to your preference]
1 tablespoon curry powder
1 tablespoon fresh lemon juice
Preparation:
In a small heavy nonreactive saucepan, combine the mustard, marmalade, hot pepper jelly, honey, curry powder, and lemon juice. Set the pan over low heat and bring to a simmer.
Cook, stirring constantly, for 5 minutes. Cool to room temperature, transfer to a container, and cover. The glaze can be refrigerated for up to 2 weeks. Return it to room temperature before using.
---
Source: Burning Desires by W. Park Kerr [William Morrow, 1994]
Photo Information: Canon T2i, EFS 60mm Macro Lens, F/4.5 for 1/60th second at ISO‑1600