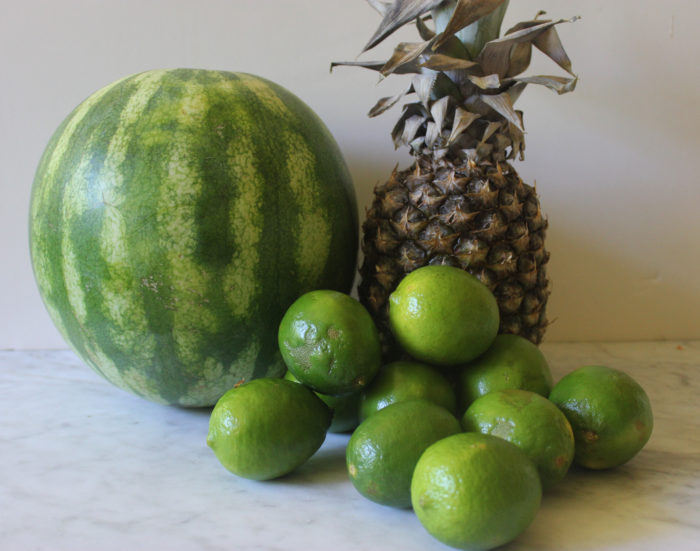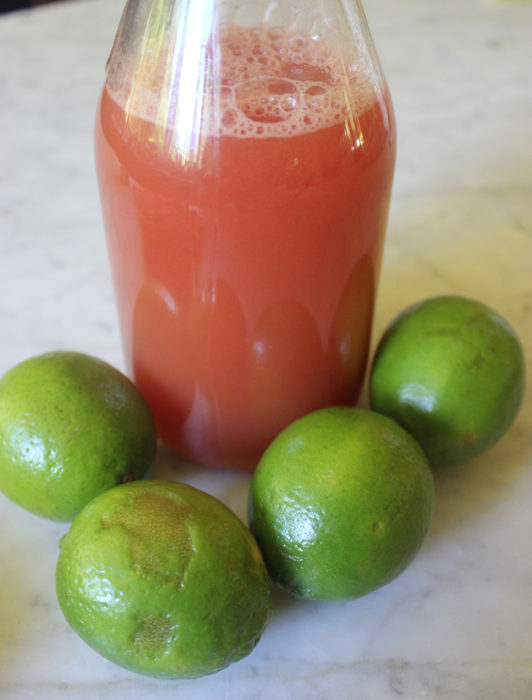 The other day I made a Watermelon and Pineapple Salsa with a Splash of Tequila. The salsa is lovely, but I found myself with some leftover pineapple and over half a watermelon. What to do? Agua fresca!
The red color here comes from the watermelon. The flavor though is both watermelon and pineapple. The pineapple notes are prominent and provide a happy dimension to the beverage.
You can sip this on its own — with plenty of ice. It is an excellent base for an official cocktail. Gin, rum, cachaça, pisco or other components can be added to provide a little kick. Be careful not to use too much alcohol less you swamp the watermelon flavor.
---
Watermelon and Pineapple Agua Fresca
Yield: about 4 cups
Ingredients:
4 cups of diced watermelon
1 cup of diced pineapple
½ cup of freshly squeezed lime juice
¼ cup of sugar, or more to taste
Water to taste
Preparation:
Place the watermelon and pineapple in a blender and process until smooth. Now, using a sieve, strain the mixture into a bowl. Strain it again. And strain it again. Yes, three times will get rid of most of the froth that originates from blending watermelon and pineapple together. There's a definite chemical process taking place there.
Add the sugar, stir and taste test. You can add more sugar or possibly some water to dilute the flavor. I did not use any water and I would not, but some people will prefer a less intense beverage.
---
Source: Brian O'Rourke
Photo Information [First]: Canon T2i, EFS 60mm Macro Lens, F/3.5 for 1/40th second at ISO‑2000
Photo Information [Second]: Canon T2i, EFS 60mm Macro Lens, F/5 for 1/30th second at ISO‑1000