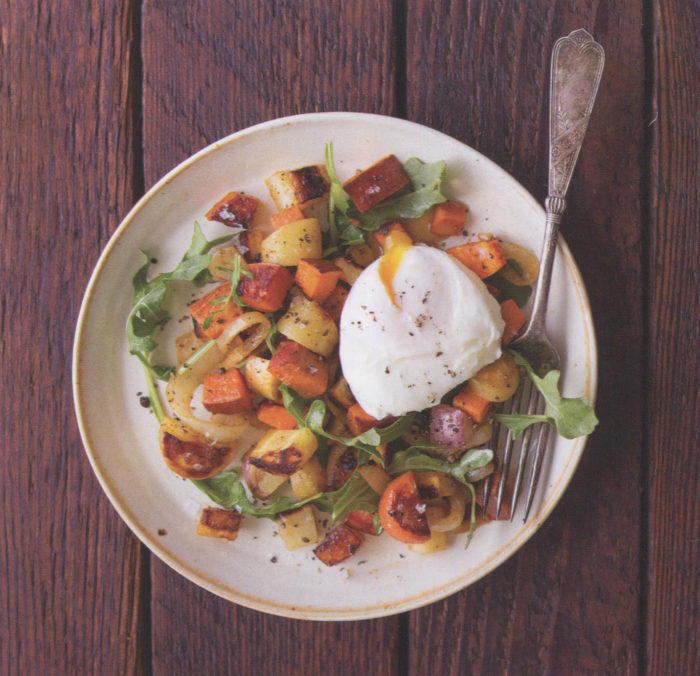 Hash. Not necessarily the prettiest word in the English language. And, on the plate, hash can resemble some version of modern art. But, in your mouth, hash is grand. Even on a summer morning, when the temperature is going to rise, an early breakfast of hash is always welcome. This morning dish has some unusual ingredients: parsnip, ground fennel, and arugula. It'll be different for sure but it is still hash!
---
Roasted Root Hash with Poached Eggs
Yield: serves 4
Ingredients:
1 large sweet potato (8 ounces)
2 or 3 medium Yukon gold, yellow Finn, or red potatoes (8 ounces)
1 large parsnip (8 ounces), peeled
3 medium carrots (8 ounces), peeled
2 tablespoons extra-virgin olive oil
1 ½ teaspoons smoked paprika
1 teaspoon ground fennel
¼ teaspoon ground cumin
1 teaspoon ground coriander
Few dashes of cayenne pepper
1 teaspoon kosher salt, plus more to taste, if desired
1 large yellow onion, cut into ¼ inch thick half-moon slices
2 large handfuls arugula
1 lemon
2 teaspoons white vinegar or white wine vinegar
4 eggs
Preparation:
Preheat the oven to 425°F. Line 2 baking sheets with parchment paper or silicone baking mats.
Dice the sweet potato, potatoes, parsnip, and carrots into ½ -inch pieces. Set aside.
In a large bowl, whisk together the olive oil, paprika, fennel, cumin, coriander, cayenne, and salt. Add the diced vegetables and onion to the bowl and toss well to coat. (I use my hands for this.) Distribute evenly over the prepared baking sheets. Don't wash the bowl yet!
Roast the vegetables for 30 to 35 minutes, until tender inside and a little crispy outside, stirring them halfway through. Transfer the vegetables back into the mixing bowl.
Add the arugula to the bowl. Cut the lemon in half and squeeze the juice over the vegetables. Stir well, taste, and add more salt if needed. Keep the vegetables in a warm spot near the stove while you poach the eggs.
Fill a 12-inch skillet with 2 to 3 inches of water. Add the vinegar, set over high heat, and bring to a boil. Once the water is boiling, lower the heat and let the water settle into a light simmer (little bubbles should appear across the bottom of the pan). Crack 1 of the eggs into a small ramekin and bring it close to the cooking water. Tip the egg gently into the simmering water in one fluid movement. Don't worry if it looks a little shaggy in the water. Repeat with the remaining 3 eggs in rapid succession, spacing them out in the pan until all 4 are simmering. Cook just until the whites look set, 2 to 3 minutes. For a firm yolk, cook an additional 1 to 2 minutes. You can check for doneness by lifting an egg with a slotted spoon and gently touching the center with your finger. Once cooked, use a slotted spoon to lift the eggs, one at a time, out of the water. Set each one on a dish towel briefly to absorb any water and transfer to a plate.
Divide the vegetables among 4 shallow bowls. Top each with a poached egg and a pinch of salt.
---
Source: Rise and Shine [Better Breakfasts for Busy Mornings] by Katie Sullivan Morford [Roost, 2016]