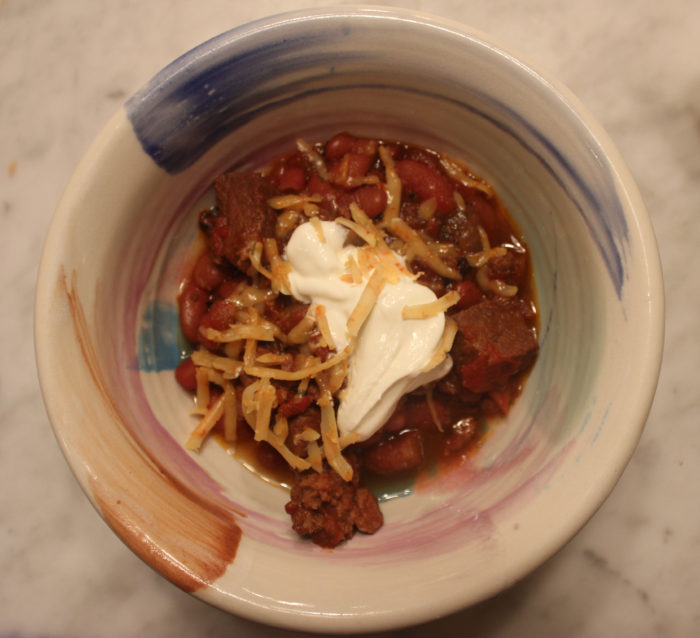 Do you remember your first time? No, not that first time. The first time you ate chili? I do. It was grade school for me. Every other Friday we had chili with cornbread. Meatless chili to be sure because it was the 1950s and Friday. It was a public school but in those days there was deference to the meatless Fridays that Catholics observed. On Fridays, we were all Catholic.
Meatless Fridays are a thing of the past. So is meatless chili. This recipe is unforgettable, a potent blend of beef and beans. This recipe uses a slow cooker and the instructions are to cook for 4 to 6 hours. I stopped at 5 ½ hours, after the meat and the beans were just right.
The ingredients call for cans of fire-roasted tomatoes. I was lucky to find 10-ounce cans that include green chilis for an extra flavor burst. The teaspoon of chili power is just what I added, because I did not want the chili to burn my mouth.
I used habanero chili powder and, yes, it was a tad hot. So, at the very end of the cooking, I added ¾ cup of brown sugar to tame the heat. That worked wonders.
My mom, for reasons I don't know, never made chili at home. To get chili, I had to attend school, so I had perfect attendance. On Fridays.
This recipe makes over 2 quarts of chili, enough for several people. Or, you can freeze the leftovers and have a quick meal on a night when cooking is not possible. But you still have that lovely microwave.
---
Unforgettable Beef and Bean Chili
Yield: 2+ quarts
Ingredients:
1 pound ground chuck
1-pound eye round steak, cut into ¾ -inch cubes
1 ½ cups chopped onion
¼ cup crushed garlic cloves
1 ½ tablespoons kosher salt
2 ½ teaspoons ground cumin
1 teaspoon chili powder
½ teaspoon ground red pepper
1 pound dried red kidney beans, rinsed any stones removed
1 (28-ounce) can crushed fire-roasted tomatoes
1 (8-ounce) can tomato sauce
3 cups unsalted chicken broth [I used homemade turkey broth from our Christmas turkey]
Serving toppers: sour cream, chopped scallions, grated cheese, chopped avocado, fresh jalapeno chile slices, fresh cilantro or your preference
Preparation:
Grease the interior of a six-quart slow cooker crock with butter or nonstick cooking spray.
If you have time, heat 1 tablespoon olive oil in a skillet over medium and cook the ground chuck, stirring to crumble, until the meat is browned. Use a slotted spoon to transfer the beef to the prepared crock. Add the eye round steak cubes to the skillet and sauté over medium until browned on all sides. Add the steak cubes to the crock. Discard the drippings.
NOTE: If you don't have time to brown the meat, you can crumble the chuck straight into the crock and stir in the steak cubes.
Stir in the onion, garlic, salt, cumin, chili powder, red pepper, dried beans, tomatoes, and tomato sauce. Mix well. Stir in the broth. Cover. Cook on Low 4 to 6 hours, or until the beef cubes cook and beans are tender.
Serve topped with the avocado, jalapeno slices, shredded Cheddar, and cilantro.
---
Source: Stock the Crock by Phyllis Good [Oxmoor House, 2017]
Photo Information: Canon T2i, EFS 60mm Macro Lens, F/3.5 for 1/30th second at ISO‑320