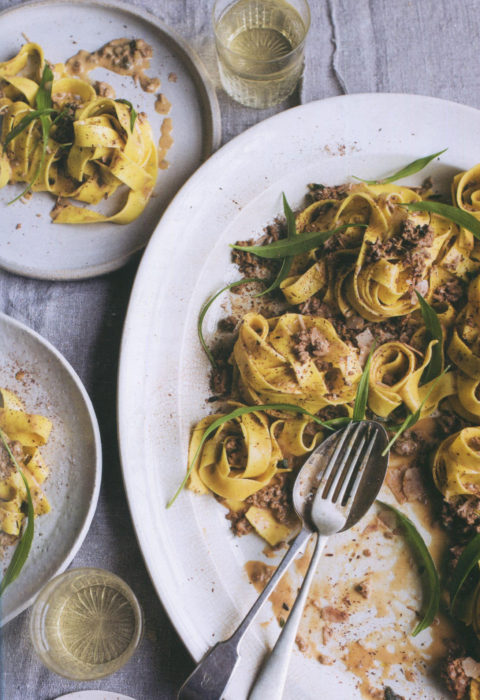 There are many savory dishes where a touch of chocolate is a key flavor accelerator. Just a little chocolate or cacao gives your dish deeper dimension. What kind of dishes are we talking about? Here's one: lamb prepared in a ragu with all the traditional ingredients plus some cacoa powder. And the final dish, pasta plus sauce, is finished off with a light dusting of finely grated cacao for a double chocolate hit.
The team at Aster Publishing that compiled The Cacao Cookbook say this is the one recipe in the book you must try. I take them at their word. Oh, this book will not be on store shelves until November 6 but you can preorder now. You'll be glad you did.
---
Lamb Ragu with Pappardelle
Yield: serves 4
Ingredients:
1 tablespoon olive oil
1 onion, chopped
3 garlic cloves, crushed
2 bay leaves
2 tablespoons finely chopped oregano
14 ounces ground lamb
2 cups lamb broth (or chicken broth)
1 tablespoon tomato paste
1 tablespoon cacao powder
9 ounces dry pappardelle
⅓ cup mascarpone
¾ ounce solid (100 percent) cacao chocolate, finely grated
Parmesan, to serve
Wild garlic shoots, to serve (optional)
Sea salt
Preparation:
Heat the olive oil in a large skillet, add the onion, garlic, bay leaves, and oregano, and cook, stirring, over medium heat for about 5 minutes. When the onion is soft, add the ground lamb and cook until browned all over, breaking up the lamb with a wooden spoon.
Add the broth and tomato paste, stir through the cacao powder, bring to a simmer, and cook for 30 minutes, until the liquid has reduced down.
Cook the pasta in a large saucepan of boiling salted water according to the package directions. Drain and refresh under cold running water, then transfer the pasta to the pan of lamb ragu and toss thoroughly. Finish with the mascarpone, tossing through before serving.
Serve the pasta in a large serving bowl, with cacao grated over, Parmesan shavings, and wild garlic shoots.
---
Source: The Cacao Cookbook from the Editors at Astor