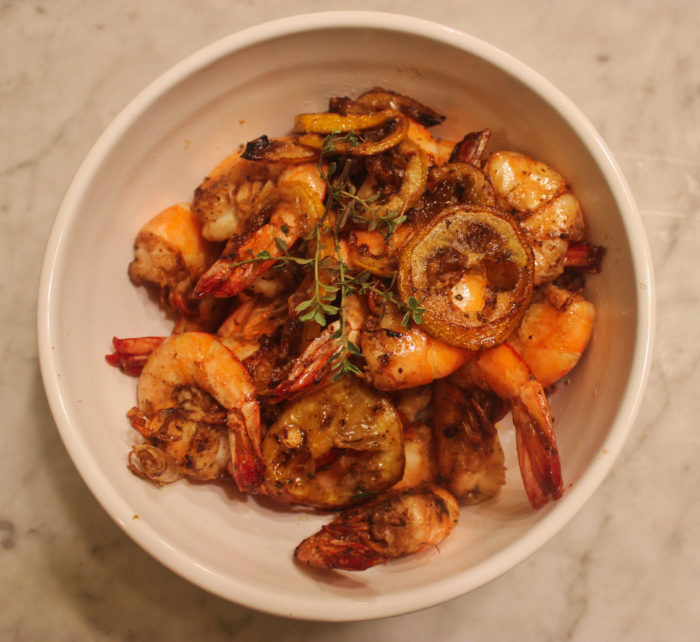 When we got the new book Mediterranean by Susi Theodorou, we were excited. So excited we made three recipes in a week. I've already posted the Whole Roasted Onion with Walnut Pesto. Here is her stunning Pan-Seared Prawns with Lemon and Garlic. It's a sumptuous dish and, better yet, is incredibly easy. If you want a weeknight dinner that resonates with flavor and quality, this is one to try.
This recipe calls for dill, but you can anoint with herb or herbs of your choice.
---
Pan-Seared Prawns with Lemon and Garlic
Yield: serves 4
Ingredients:
3 tablespoons extra virgin olive oil
2 garlic cloves, bashed to split the skins
1 large lemon, thinly sliced
1 pound+ raw unpeeled medium-large prawns
½ teaspoon Calabrian chili flakes [or more if you dare — TASTE TEST!]
1-2 tablespoons finely chopped dill
Sea salt and freshly cracked black pepper
Toasted crusty bread or cooked pasta, to serve
 Preparation:
Place the oil in a large frying pan with the garlic over medium heat. When the garlic is sizzling, remove and discard. Add the lemon slices to the oil and cook over a gentle heat until caramelized, then remove and set aside.
Add the prawns to the pan, turn up the heat and season salt, pepper and the chili flakes. Cook for 5-8 minutes the prawns are bright pink and slightly caramelized in place. Return the lemon slices to the pan and stir in the dill.
Serve immediately with crusty bread or pasta. Or, just peel and eat with cold beer.
---
Source: Mediterranean by Susie Theodorou [Kyle, 2018]
Photo Information: Canon T2i, EFS 60mm Macro Lens, F/3.5 for 1/30th second at ISO‑400