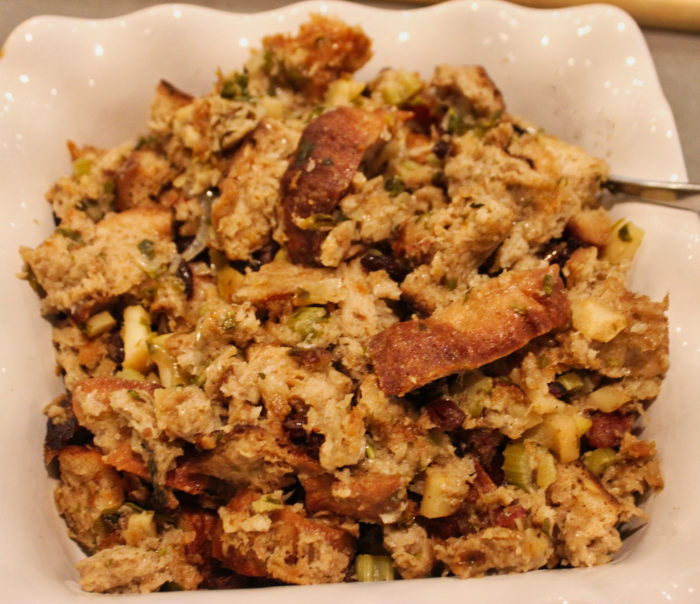 For me, posting at this time of year is confusing. I prefer to post things we have made, but I want to give people a heads up on recipes before each holiday. I really don't want to do turkey and stuffing in mid-November in time to post for Thanksgiving. So, what I find myself doing is making dinner with Suzi, using the leftovers, having a great time and then posting post-holiday. Because, because these recipes can by used for the remainder of our holiday season.
If you are like us, we have stuffing twice: Thanksgiving and Christmas. So, paranoia gone, here is the wonderful stuffing we had this year. When we had Thanksgiving dinner last Saturday. It's a complicated family issue. We had half the family over on Saturday and they are dedicated to being kosher. Suzi and I hunted for an appropriate stuffing recipe. No pork sausage.
From the magical book, The World of Jewish Entertaining, comes this stuffing recipe filled with ingredients mentioned in the Old Testament [yes, I know, Jews call it the Torah but I grew up with New and Old and Catholic habits die hard].
This is a lovely stuffing, which we back on the side. We never stuff our turkeys. It's not a healthy route to follow. Feel free to increase the amount of fruit used here. I liked the stuffing but whenever I got a bite with apple I was happier. So, I'd increase the apple for sure.
Try this stuffing once and I'm sure it will make your starting rotation [yes, a baseball pun in November!]. You'll find the ingredient list fascinating for a "stuffing." Apples, dates, figs, raisins, and nuts give you a flavor mix and mouthfeel quite different from those "standard" stuffings we've grown up on.
---
Biblical Fruit Stuffing
Yield: serves 8
Ingredients:
¼ cup vegetable oil
2 medium onions, chopped (about 1 cup)
2 medium stalks celery, chopped (about ⅔ cup)
4 cups (about 8 ounces) croutons or dry bread cubes
2 cups cored and chopped apples
1 cup chopped pitted dates
1 cup chopped fresh or dried figs
1 cup dried currants or raisins
1 to 1 ½ cups coarsely chopped almonds or walnuts
½ cup chopped fresh parsley
1 teaspoon dried sage or ground cinnamon
Salt to taste
Ground black pepper to taste
2 large eggs, lightly beaten (optional)
About ½ cup chicken broth, dry white wine, orange juice, or apple cider
Preparation:
Heat the oil in a large skillet over medium heat. Add the onions and celery and sauté until softened, about 10 minutes. Remove from the heat and stir in the croutons, apples, dates, figs, currants, almonds, parsley, sage, salt, and pepper. Toss to coat. If desired, add the eggs. Stir in enough of the broth to moisten.
Put in a pan where you can spread the stuffing out to about 1 ½ inches deep. Moisten a bit with more broth. Cook at 350° F for about 40 minutes. Check after 30 minutes. Pull from the oven based on scent or if the top is browning too much.
---
Source: The World of Jewish Entertaining by Gil Marks [Simon and Schuster, 1998]
Photo Information: Canon T2i, EFS 60mm Macro Lens, F/4.5 for 1/50th second at ISO‑2000