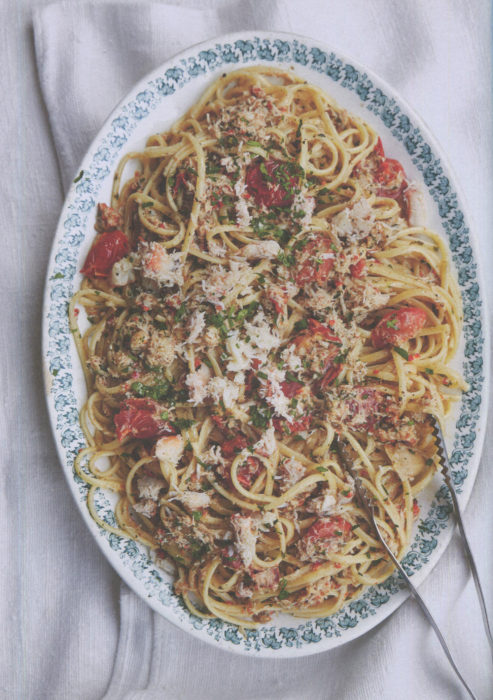 Oops. This is Thursday but this is not a TBT recipe. I goofed and did not publish it on Tuesday, so here it is. A super dish for the coming holiday weekend. Pasta and crab!
If you read this blog often, you know that Suzi and I are ardent fans of Katie and Giancarlo Caldesi. She's British, he's Italian and together they have created quite a complex enterprise: cooking school, restaurant, and a flotilla of very important cookbooks.
Their latest book is The Long and Short of Pasta. It's a page turner. A very, very slow page turner for you will find your self-engaged by almost every recipe. Maybe every recipe! I'm a crab fan and Suzi likes peppers. So this recipe fits both our needs: linguine cooked with tomatoes and Prosecco and heavy cream, the topped with parsley, garlic and chili to your level of preference.
As you can see, on a serving plate this is a dramatic dish. In your mouth, it is a most satisfying one.
You do make a battuto here: a flavor base that is your flavor starter for the entire dish.
---
Linguine with Crab and Cream
Yield: serves 4 as a main, 6 as an appetizer
Ingredients:
For the battuto:
Large handful of parsley, roughly chopped, plus 2 tablespoons finely chopped
1 garlic clove, peeled
Fresh red chili, finely chopped, to taste, or ¾ teaspoon dried chili flakes
Salt and freshly ground black pepper
For the pasta and crab:
3 tablespoons extra-virgin olive oil
15 cherry tomatoes, halved
3½ ounces brown crab meat and 10½ ounces white crab meat
100 ml (scant ½ cup) Prosecco or white wine
4 tablespoons double (heavy) cream
11 ½ ounces dried linguine
Preparation:
Make a battuto with the 2 tablespoons of parsley, the garlic, chili, and a pinch of salt and pepper by finely chopping them together on a board with a sharp knife.
Heat the oil in a large frying pan over a low heat and fry the battuto for 3 minutes, until the garlic just starts to soften but doesn't burn. Add the cherry tomatoes and crab meat and fry for a couple of minutes. Increase the heat and pour in the Prosecco or white wine and allow it to evaporate for a few minutes until the strong smell of alcohol has gone. Pour in the cream and shake the pan to blend it into the sauce. Taste and season with salt and pepper as necessary. Remove from the heat and set aside.
Cook the pasta until just al dente. Take 2 tablespoons of water from the pasta saucepan and add it to the sauce in the frying pan. Drain the pasta and put this in too. Add the remaining parsley and toss or stir through briefly. Serve straight away in warmed bowls.
---
Source: The Long and Short of Pasta by Katie and Giancarlo Caldesi [Hardie Grant, 2018]