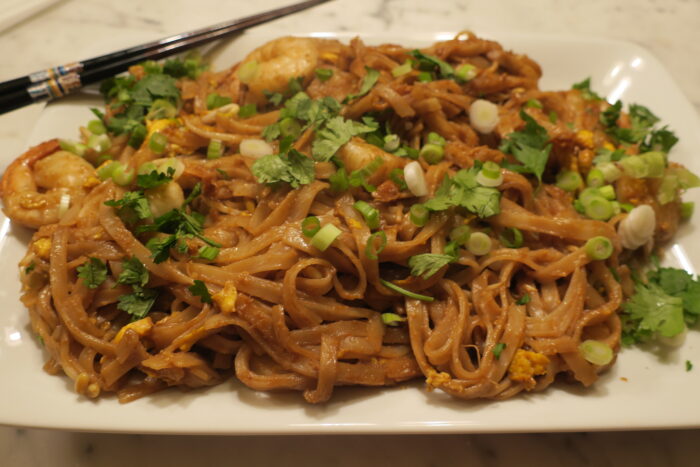 What is your favorite cuisine? For Suzi and me it's often the cuisine in that restaurant we are about to enter. We eat everything: American, Mexican, Tex-Mex, French, Italian and Asian. Oh, Asian? About that, that's where we get confused: Japanese, or Chinese, or India, or Thai. Thai for sure!
The best thing about Thai is that no two restaurants are ever quite the same. Different flavors, different heat levels. Pad Thai is a delight but, like meatloaf, it's a comfort food that no two kitchens make quite the same. And, like most Americans, we only get Pad Thai when we go out. I mean, how many of us would ever attempt it? It's Asian and Americans really don't rush to the kitchen to cook Asian. Delicious and different and, yes, a bit scary. The ingredients, the technique. Better to stick with actual meat loaf.
No more. This Pad Thai recipe from Alex Guarnaschelli in Cook with Me, is pure comfort food and easily made. I have to say, Suzi did this and I thought we were eating out. One problem with the recipe, there isn't enough. We had seconds the first night and when, on night two, we returned to finish it all off, we were short. We were still hungry. This is a recipe to double down on, in more ways than one.
Chicken and Ginger Pad Thai
Yield: serves 3 or 4 [but, you'll want more!]
Ingredients:
8 ounces pad thai rice noodles
Boiling water
3 tablespoons peanut oil
1 tablespoon honey
1 tablespoon fresh lime juice
¼ cup smooth peanut butter, preferably Jif
¼ cup low-sodium soy sauce
6 large garlic cloves, minced
2 large eggs
1 boneless, skinless chicken breast (about 8 ounces), cut into ½ inch pieces
Kosher salt
2 tablespoons grated fresh ginger
1cup bean sprouts
4 scallions (green and white parts), sliced
¼ cup fresh cilantro leaves
Preparation:
PREPARE THE NOODLES: Place the noodles in a large heatproof bowl and cover them with boiling water. Add 1 tablespoon of the peanut oil and set aside until the noodles are tender, 5 to 8 minutes. Drain the noodles in a colander and set them aside.
MAKE THE SAUCE: In a medium saucepan, stir together the honey, lime juice, peanut butter, soy sauce, and two-thirds of the garlic with ½ cup of water. Bring the mixture to a boil over medium heat and cook until the sauce reduces and thickens slightly, 3 to 4 minutes. Set it aside.
COOK THE EGGS: In a large nonstick skillet, heat 1 tablespoon of the peanut oil over medium heat. Crack the eggs into the skillet and use a heatproof rubber or silicone spatula or a spoon to scramble the eggs gently until they are firm but not overcooked, 1 to 2 minutes. Set the eggs aside on a plate.
FINISH AND ASSEMBLE: In the same skillet, heat the remaining 1 tablespoon peanut oil over medium heat. When the oil begins to smoke lightly, after 2 to 3 minutes, add the chicken and the remaining garlic along with a pinch of salt. Cook, stirring often, until the chicken is fully cooked, 4 to 5 minutes. Stir in the ginger, bean sprouts, sauce, noodles, and eggs, and toss gently to combine. Taste for seasoning. Serve topped with the scallions and cilantro.
Source: Cook with Me by Alex Guarnaschelli