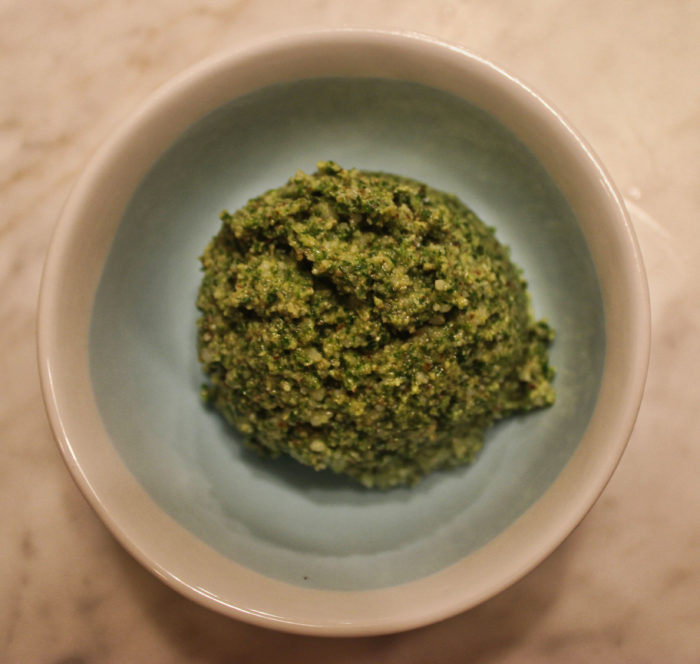 You know pesto: basil + pine nuts + Parmesan-Reggiano. It's good. It's interesting.
And it can get boring. Just a little boring. Always the same. So, let's try something different. Out with the pine nuts, subtle and sweet. Bring in something hearty: walnuts or pecans. I would not use both because that might muddy the flavor — you want distinction.
In place of basil, use parsley or even rocket arugula. Keep the traditional garlic. Maybe you skip the cheese? Maybe not. Try this most different, most intense and most satisfying pesto idea.
And how to use it? Why, wait until tomorrow when we pair it with whole roasted onions. Suzi and I have made this, tasted it with delight, and return to it often. So will you.
Stamp out Pesto Boredom!
---
A Different Pesto Path: Walnuts or Pecans
Yield: serves 6 when put on bread slices or whole roasted onions
Ingredients:
3 ½ ounces walnuts, toasted [or pecans, but not mixed]
2 garlic cloves, smashed with salt (optional)
3 ½ ounces rocket arugula or flat-leaf parsley, or a mixture, roughly chopped
Juice of ½ lemon
pinch of Calabrian chili flakes
3+ ounces extra virgin olive oil
2 ounces finely grated Parmesan or pecorino (optional, but personally I would not skip this!)
Sea salt and freshly cracked black pepper
Preparation:
Place the walnuts in a food- processor and pulse twice to chop slightly. Add the garlic (if using), and rocket or parsley and whizz once more. Add the lemon juice and a sprinkling of chili flakes and, with the processor running, drizzle in the oil to form a semi-thick pesto. Spoon the pesto into a bowl, add the cheese, (if using), and season.
---
Source: Mediterranean by Susie Theodorou [Kyle, 2018]
Photo Information: Canon T2i, EFS 60mm Macro Lens, F/3.5 for 1/30th second at ISO‑400