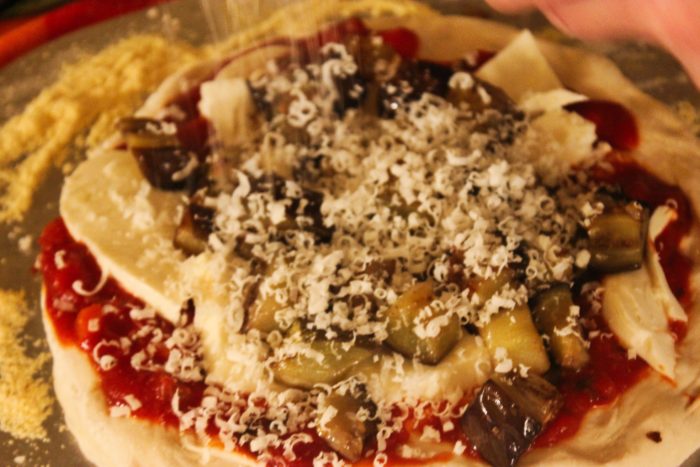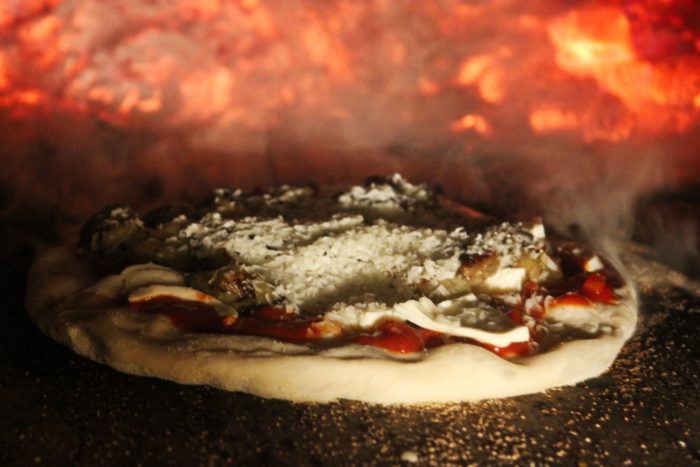 Eggplant.
What cuisine popped through your mind? Greek, North African, Indian? Maybe Italian but not Pizza Italian.
This idea comes from Dolce Vita Pizzeria Enoteca in Houston, Texas. Yes, it's an American idea. Change your favorite home pizza. You can add the eggplant or swap out that sausage or those meatballs.
You prep the eggplant by cutting, allowing to sit in salt, and then sautéing. Those prepped cubes are placed on the pizza and baked along with the sauce and cheese you've placed on your pizza. Here are the ingredients and steps you need.
The second picture, of the pizza in the oven, is from our Olive weekend home. We have a wood-fired pizza oven in our kitchen. If it was outside, we would not be able to use it half the year. Now, when the snow is on the ground, we warm our house and feed ourselves sizzling pizza.
That raging fire in the background? It takes five hours to groom the fire to this level. The floor of the oven is almost 900°F. The ceiling is over 1200°. And that pizza cooks in a mere 90 seconds, just about the same time as in the grand pizza ovens of Naples.
Ah, how does it taste? That eggplant has almost "melted" down but offers that tingling, unmistakable eggplant punch.
For other wonderful pizza idea, take a look at The United States of Pizza, a pizza tour of America that will surprise you.
---
Eggplant Additions to Your Pizza
Yield: for one or two medium sized pizzas
Ingredients:
1 medium eggplant cut into 1-inch cubes
Preparation:
In a medium bowl, toss the eggplant cubes with the salt and let sit for about 20 minutes. A little water will seep from the eggplant, making the eggplant creamy and soft when cooked. Transfer the eggplant to a colander to drain, and rinse well with cold running water.
Heat the olive oil in a medium skillet over medium heat. Add the eggplant and sauté for about 15 minutes, stirring often so the eggplant cooks evenly. It will be soft and dark brown when ready.
Add to your pizza and cook away.
---
Source: The United States of Pizza by Craig Priebe and Dianne Jacob [Rizzoli, 2015]
Photo Information [Top]: Canon T2i, EFS 60mm Macro Lens, F/5.6 for 1/20th second at ISO‑3200
Photo Information [Bottom]: Canon T2i, EFS 60mm Macro Lens, F/5.6 for 1/10th second at ISO‑3200