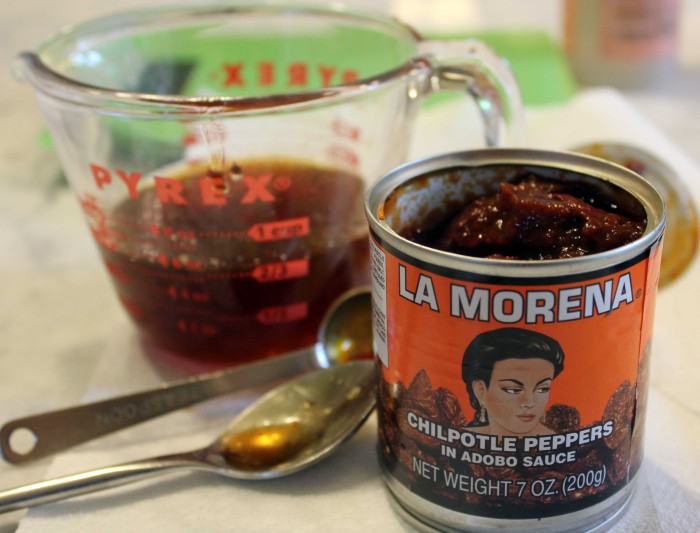 You may well have purchased a can of chipotle peppers in adobo sauce. It's a key ingredient in Mexican cuisine, and certainly a way to add zip to your guacamole.
There are both domestic and imported brands. Suzen and I are fond of that La Morena brand, although I do have a slight complaint. I don't think the billing is appropriate. "Chipotle Peppers" is in one font and "Adobo Sauce" in a smaller one.
We find both components to be equally useful. Actually, I think we tend to favor the adobo sauce for its marvelous versatility.
Do you have some artichokes steaming away? Going to serve them with butter or mayonnaise. Take the mayo, add some adobo sauce, perhaps some lemon juice, and enjoy those artichokes as you never have.
What is adobo sauce anyway? The Spanish word "adobo" can be interpreted as marinade, sauce, or seasoning. Adobo sauce was created on the Iberian Peninsula [Spain and Portugal] where different versions are made with a combination of paprika, oregano, salt, garlic, and vinegar.
Variations exist around the world. For example, Mexican adobo sauce, like that in the can, are often combinations of guajillo chiles, water, garlic, vinegar, salt, sugar and cumin — a far cry from that original Iberian version. If you google, you will encounter a bounty of "personal variations" on this theme incorporating other chiles, spices such as cinnamon and clove and oregano, onion, and tomato. I think our La Morena sauce is probably quite basic and I thrive on that familiar, earthy flavor.
Here's a simple but brilliant way to use that adobo sauce. Make Adobo Honey, a combination of sweet and heat that can be used from biscuits to aqua frescas. In fact, tomorrow's post will feature a raspberry agua fresca with amplified flavor from lemon juice and adobo honey.
The proportions in the recipe below are based on some experimentation. The result you get will depend on the honey. This is NOT the time to use some expensive, floral honey because the adobo flavor is going to dominate. Instead, you want a good, basic, plain old honey. Good quality for sure, but with no flavor overtones. Let the adobo do the talking.
Adobo Honey
Yield: 2/3 cup
Ingredients:
2/3 cup of plain honey
1 teaspoon adobo sauce
Preparation:
Warm the honey if necessary so it flows easily. A few second in the microwave will work. You need it flowing, not hot.
Add the adobo sauce and carefully mix to ensure uniformity. Taste test and, if you desire, add more fire. Just remember, you can make it hotter but you can only make it cooler by diluting with additional honey.
Source: Brian O'Rourke
Photo Information Canon T2i, EFS 60 mm Macro Lens, F/4.5 for 1/60th second at ISO‑800